What you need to know about Prague
Do you know the feeling when you get somewhere, where you don't know it? After few days you tell yourself "I could have done this better". Here you have most important tips, how to save money and enjoy the most of your visit in Prague and Czech republic.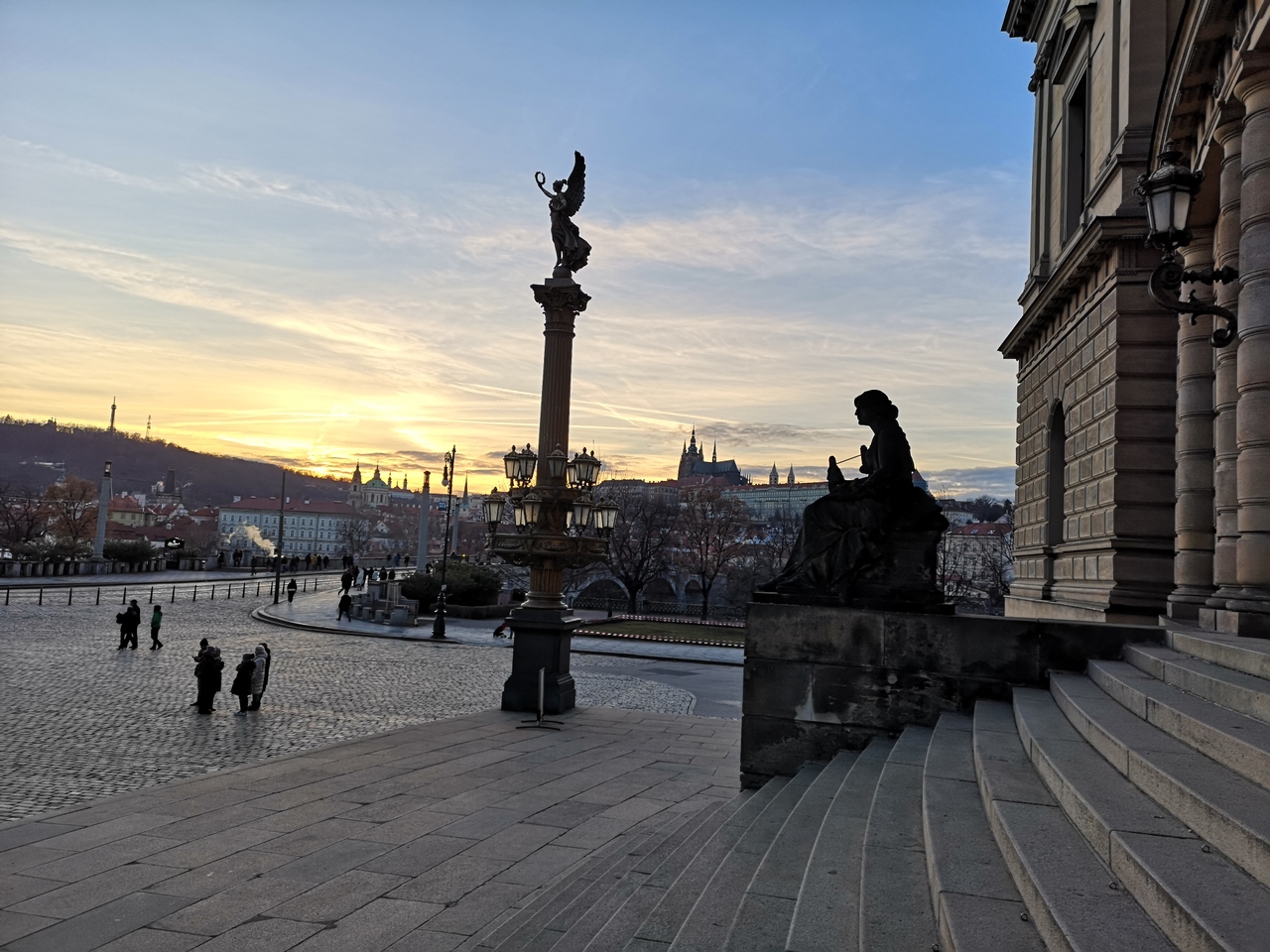 I will try to help you in as many ways as I can. For better orientation we will divide the article into the following categories:
Basic informations
How to get from airport
Transportation - Public and Outside Prague
Main spots to visit
Where (and what) to eat and drink
Souveniers
Accomodation
Attractions
Season (Spring, summer, autumn, winter)
Safety
Map + videos
Basic informations
Currency is Czech koruna (Kč) 1€ = 25,6Kč (3/2019)
Good Exchange is Praha Exchange
Use ATM of a known bank (Komerční banka, Reifeisen, Česká spořitelna, Air bank, Equa bank…)
"No name" ATM will charge you huge fee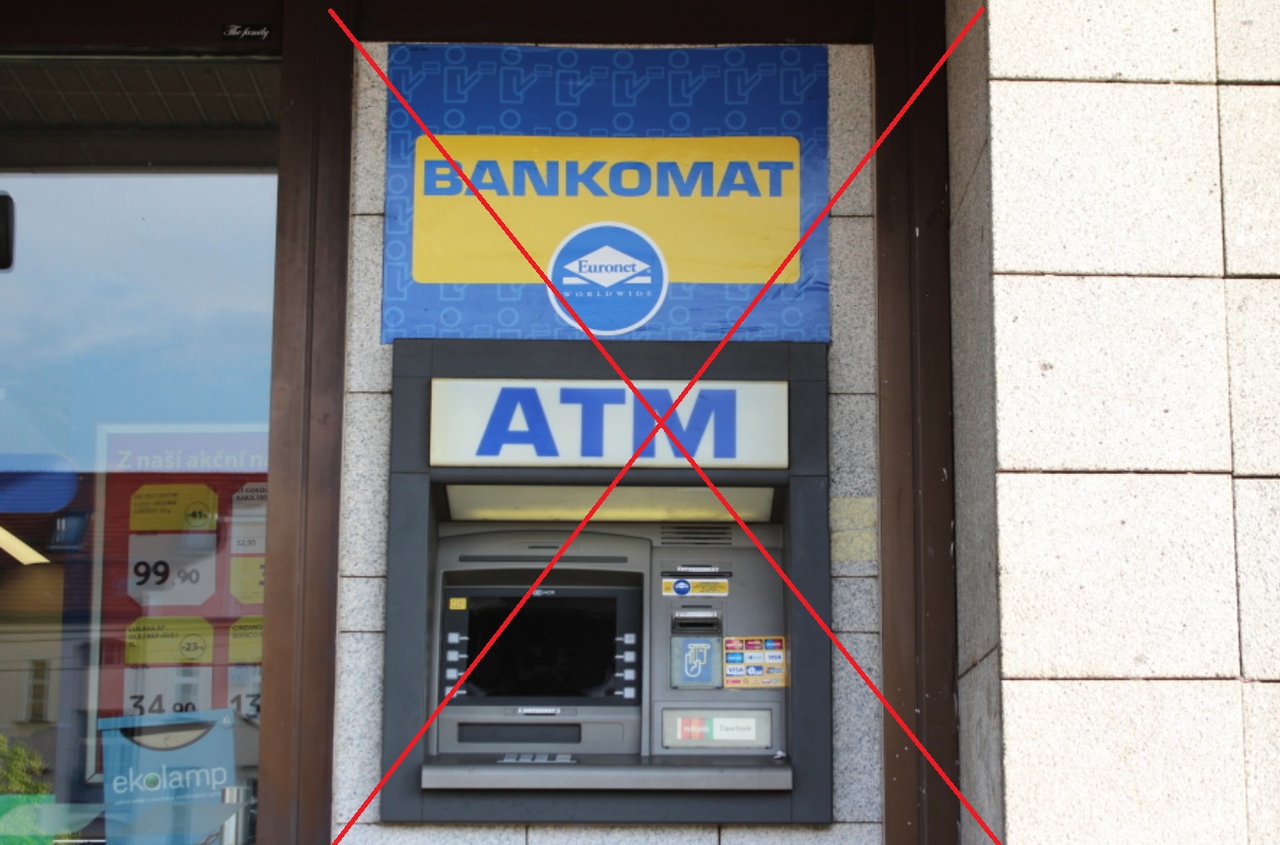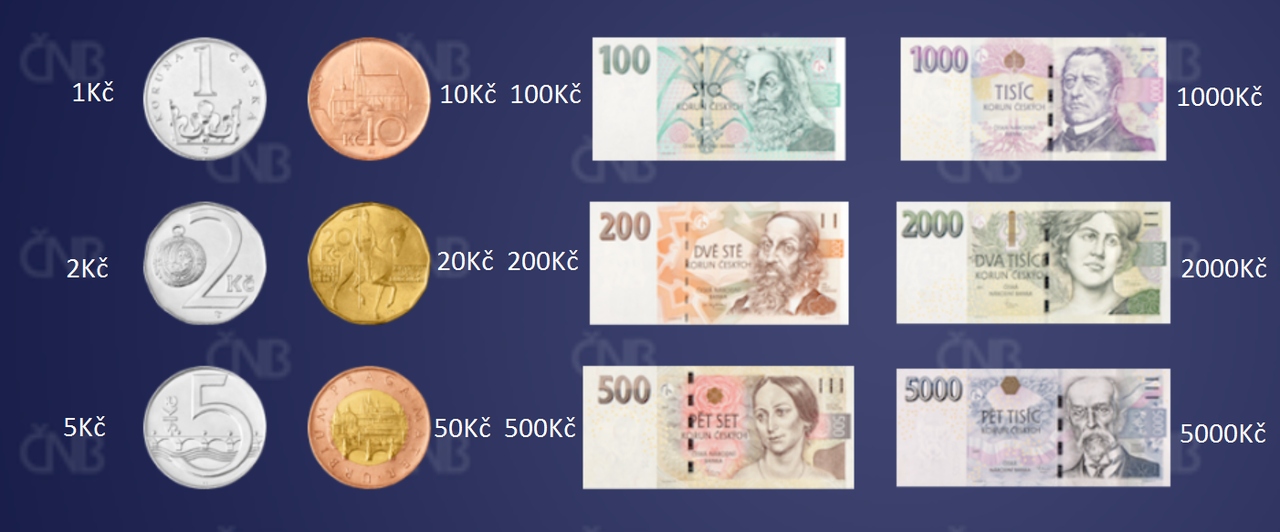 Language is Czech
We are no longer Czechoslovakia and we have never been part of Rusia!
Czechs appreciate if you use at least Hello and thank you. They are bit xenophobic, so if you use these two words they will talk to you and you will see that they can be really friendly.

Weather is changing every season. We have four seasons.

Phone code is +420
Emergency number is 112
How to get from airport
You have multiple choices how to get from airport. Everything depends on your budget and comfort.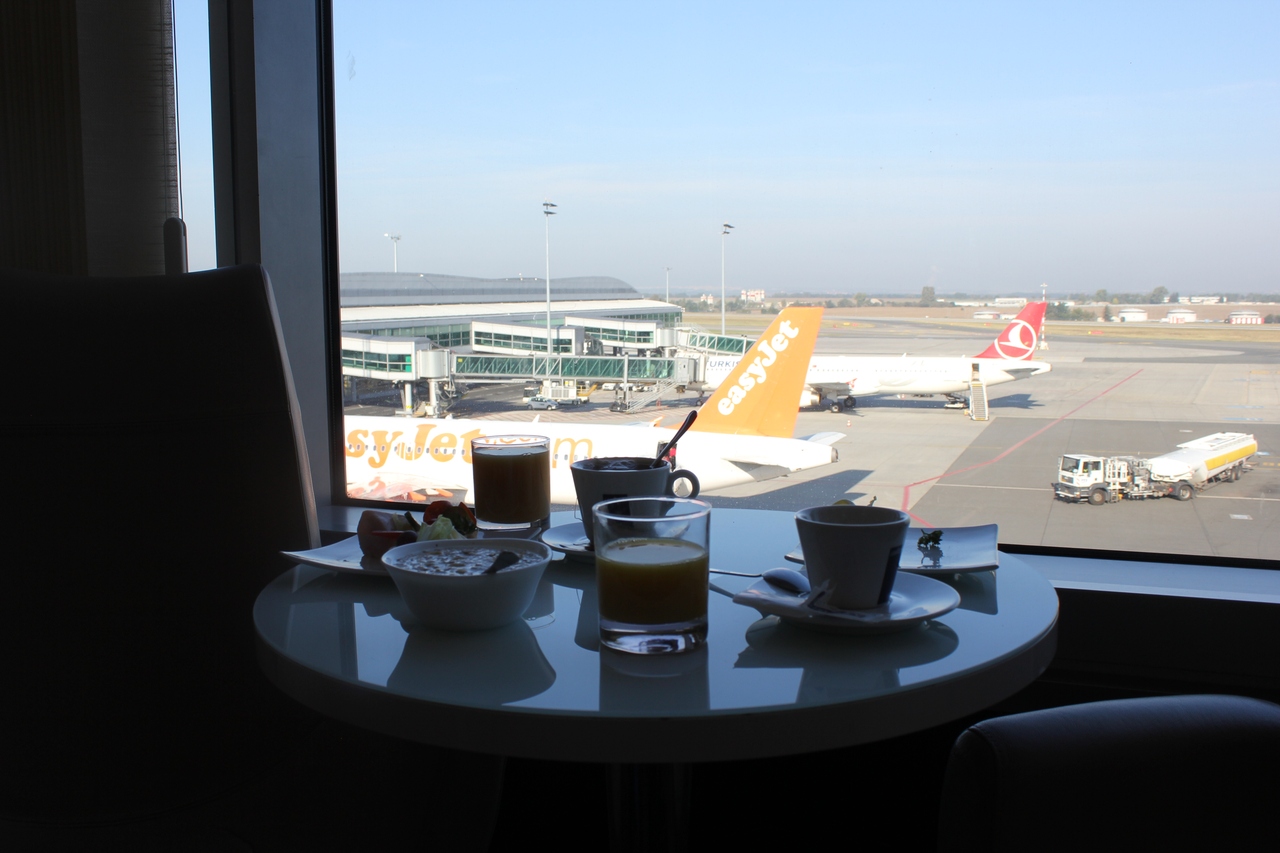 1. Bus – You can use public transportation to reach city center. This is the cheapest way. You have 2 options going by bus to center.
You can take bus number 119, or 191 to get to subway station A from where you can go to center.
Bus number 100 and 191 takes you to subway station B that can take you also to city center. It depends where you are accomodate.
At night there is no subway working. From 0:00 to 04:00 use bus line 910, that will take you to I.P. Pavlova.
Rest of the informations including prices, maps and so on you will find in chapter "Prague city transport".
2. Uber – This option is more comfortable but much more expensive. From airport are prices almost the same as cheap taxi. Problem for Uber drivers is, that they have to pay for parking at the airport 100Kč. Anyway ride to Václavské náměstí should cost aproximately 390Kč (18km).
3. Taxi – Using taxi in Prague is quite chalenging if you don't know how to do that. Basic rule is Never take taxi parked at the airport, or in front of famous spot! I know few stories about people that payed for ride from airport to center even 8000Kč.
Normal price should be around 500Kč to Václavské námětí.
One of the best companies is nejlevnejsi taxi (+420 226 000 226). Price is 420Kč to Václavské náměstí.
4. Rent a car – This option use only if you want to go also outside Prague. You can look to chapter "Intercity transportation".
Prague city transport
With transportation inside Prague you have more choices than when getting from airport. Some of them can be really funny and some of them really not appropriate.
Lets check first public transport.
We use subway, tram and buses for normal transport. To search your lines you can use web page, or mobile app.
Fastest way is by subway. Only problem is, that we have only 3lines and you have to use also oder kinds of public transport.
Transportation is not expensive. You can buy 90min ticket for 32Kč, or 24h ticket for 110Kč. Tickets are valid for subway, public buses, trams and also ferry and cableway.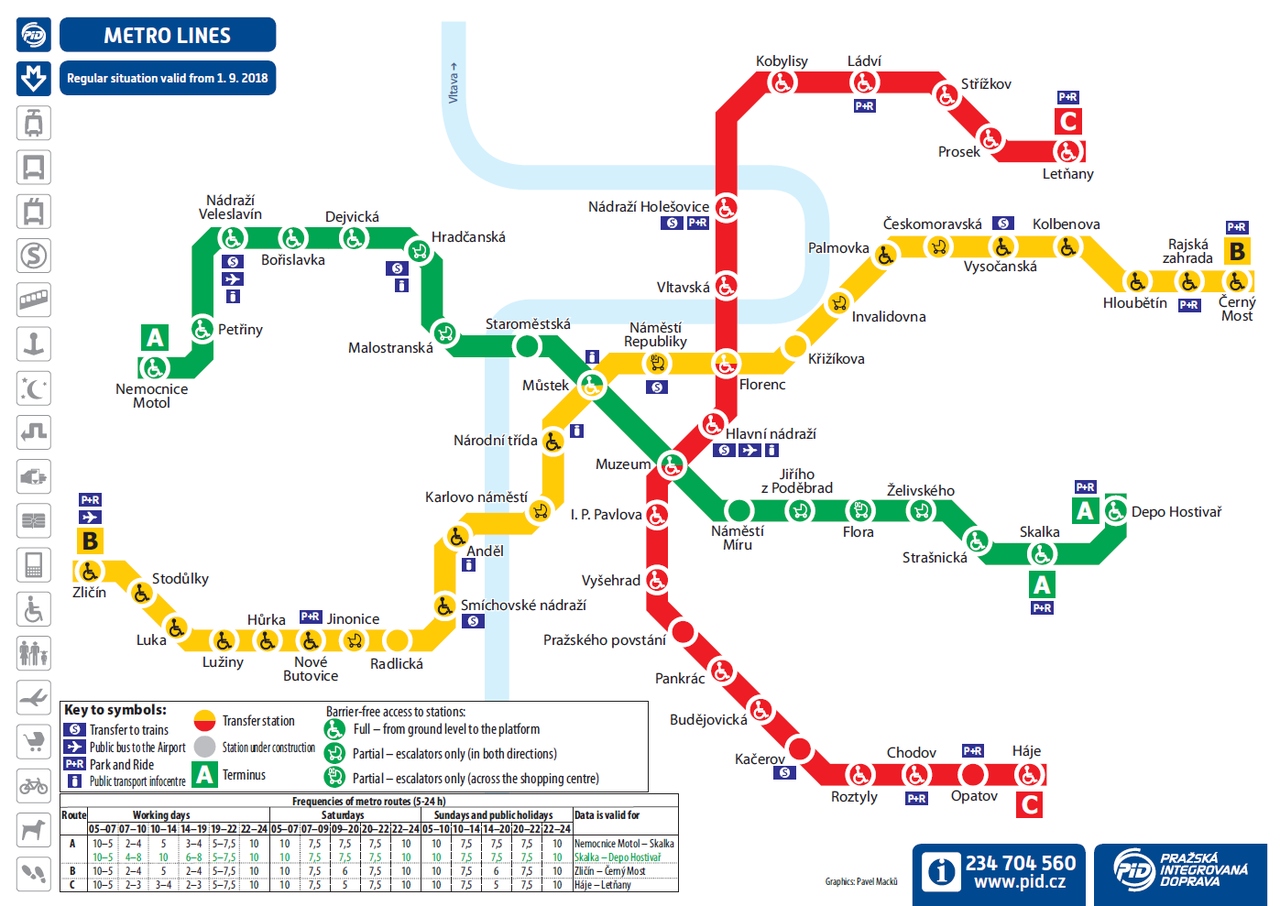 Next option is Uber or taxi. It is cheaper to take Uber than taxi. Normal price for taxi is 24Kč/km. Don't use anything more expensive. With nejlevnější taxi you pay 19,9Kč/km. For other good deals just ask locals.
Funny and healthy way is to use bicykle. There are plenty of companies providing it. One example is Rekola. You can rent normal bicykle, or electrobike. I would recomend this option to anyone in spring and summer time. Riding bike in winter can be sometimes dangerous while the road is slippery.
There are two other options. One is to rent a scooter and the second one is to rent a segway. Please don't use any of those two. Segways are prohibited in most of the places in Prague, because it was to dangerous for other people. Scooter is not good for prague roads. It has small wheels and not enough power to take you up hills. They broke easily and Prague is then full of metal parts, that can't be used. If you want to ride one, just go outside Prague to places like Bělá. Where you can do skateboareding, skating, or scooter riding.
Intercity transport
If you are planning to leave Prague, you will need other types of transportation.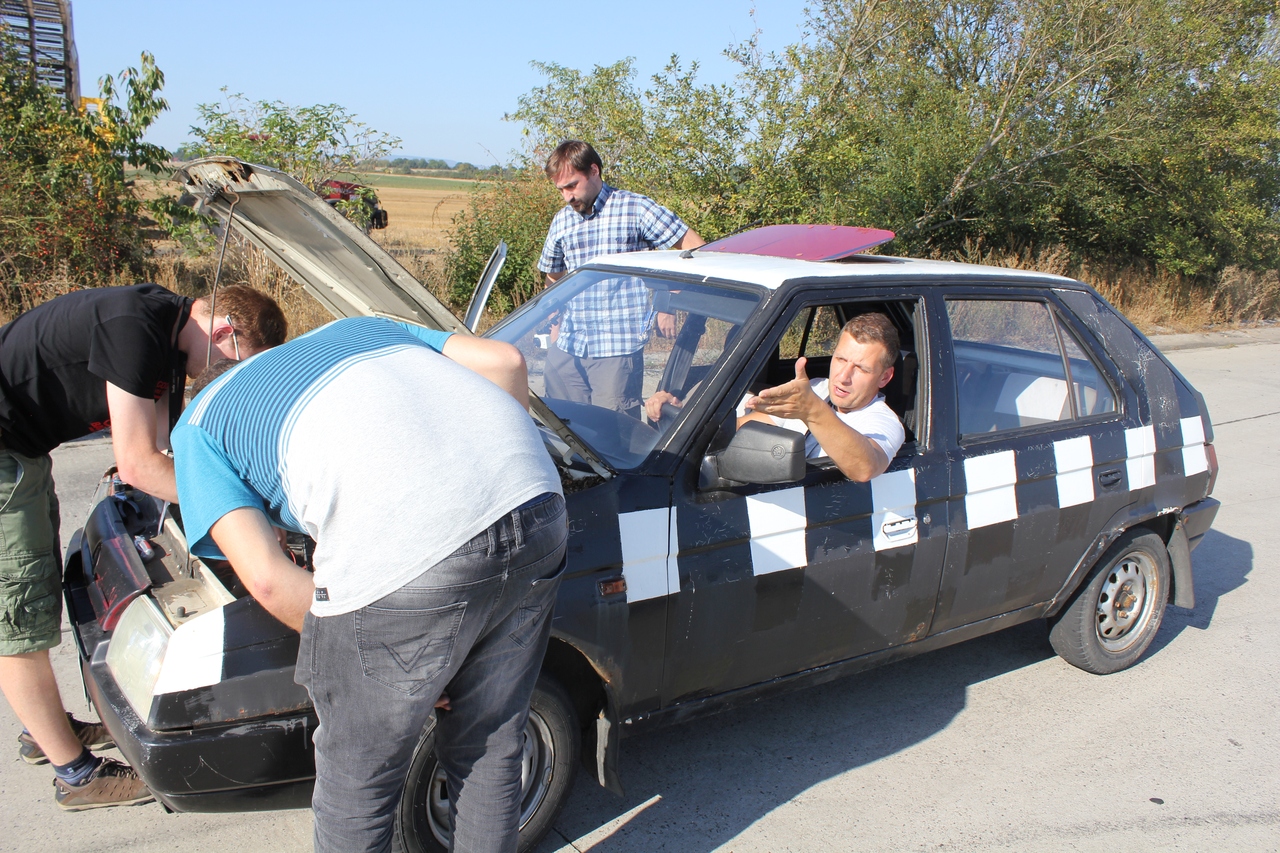 For intercity public transport you can use the same web page as for Prague public transport.
There are three main bus stations in Prague. Biggest one is Florenc. From there you can also take buses to other countries. Then there is Zličín and Černý most. All of those three are reachable by subway.
If you want to take bus to bigger city, you can use one of two bus travel agencies. One is Regiojet and second one is Flixbus.

There are also more railway stations in Prague, but you will need probably just Prague Main Railway Station (Praha hlavní nádraží). Train timetables and prices you can find in Idos.
Regiojet is also train travel agency. With this agency you can search intercity transportation and international train transportation.
Next possibility that is faster and most of the time cheaper is Blabla car. You just register there and try to find someone, that will take you to the place you want. This option works quite good. Especially in big cities you shouldn't have problem.
You can rent a car if you want. Search for car rental companies, or you can try to use Hoppy go.
If you have time and if you are at least a bit adventurer, you can try hitchhiking. It is better to use app, where you have marked good spots for hitchhiking. This way is really great to meet someone local. But sometimes it can take quite a long time. Most important thing: NEVER HITCHHIKE ON HIGHWAY!!! It is dangerous not only for you, but also for all drivers there.
Main spots to visit
Old town square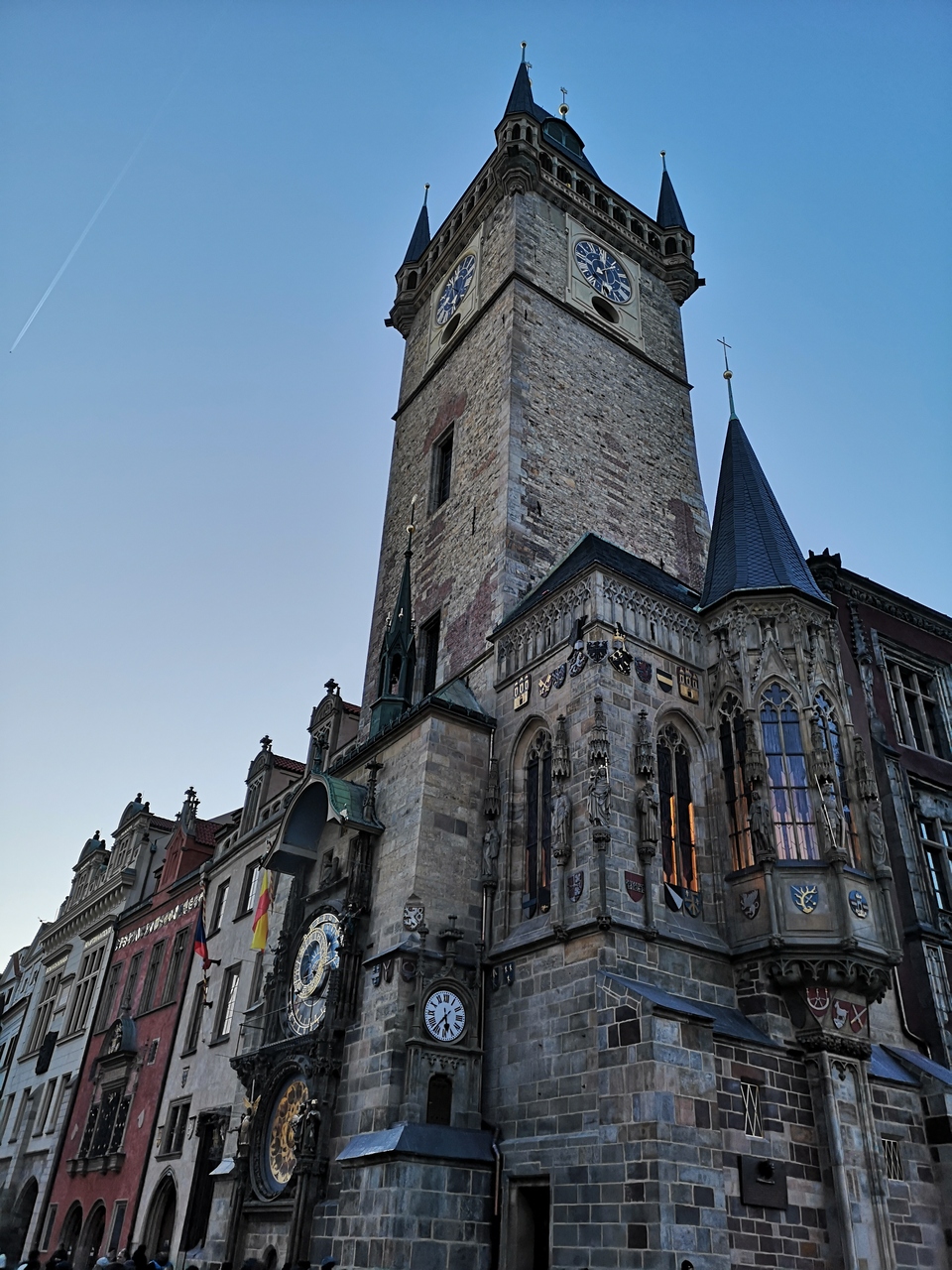 One of the most sought-after places in Prague is located 15min by walk from Prague main railway station. The main attraction of the square is undoubtedly the Astronomical Clock. Every hour in the daytime there are 12 apostles appearing above the clock. It is actually not important for the clock itself. It is just for the show.
Few meters left from Orloj you can find "Skautský institut". If you don't want the rush of the street and you want to have tasty cheap beer or other different drinks and snacks, go there. It is 1000x better than any beer on the square.
Charles bridge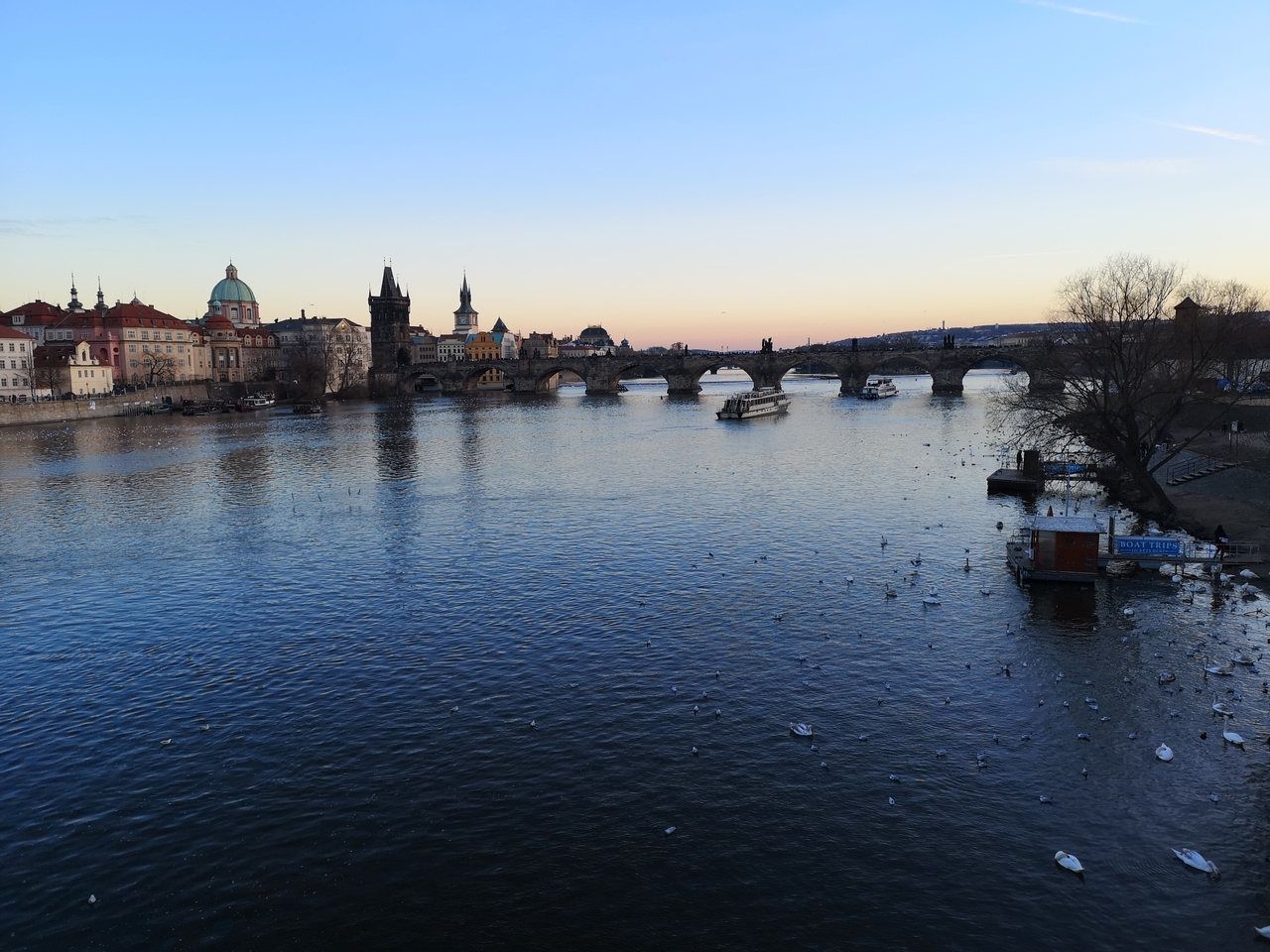 It is second oldest preserved bridge in Czech republic. The bridge was opened in 1402. Construction of the bridge began in 1357. The legend says that there were eggs used for the construction, but it was disproved by scientists in 2010.
Prague castle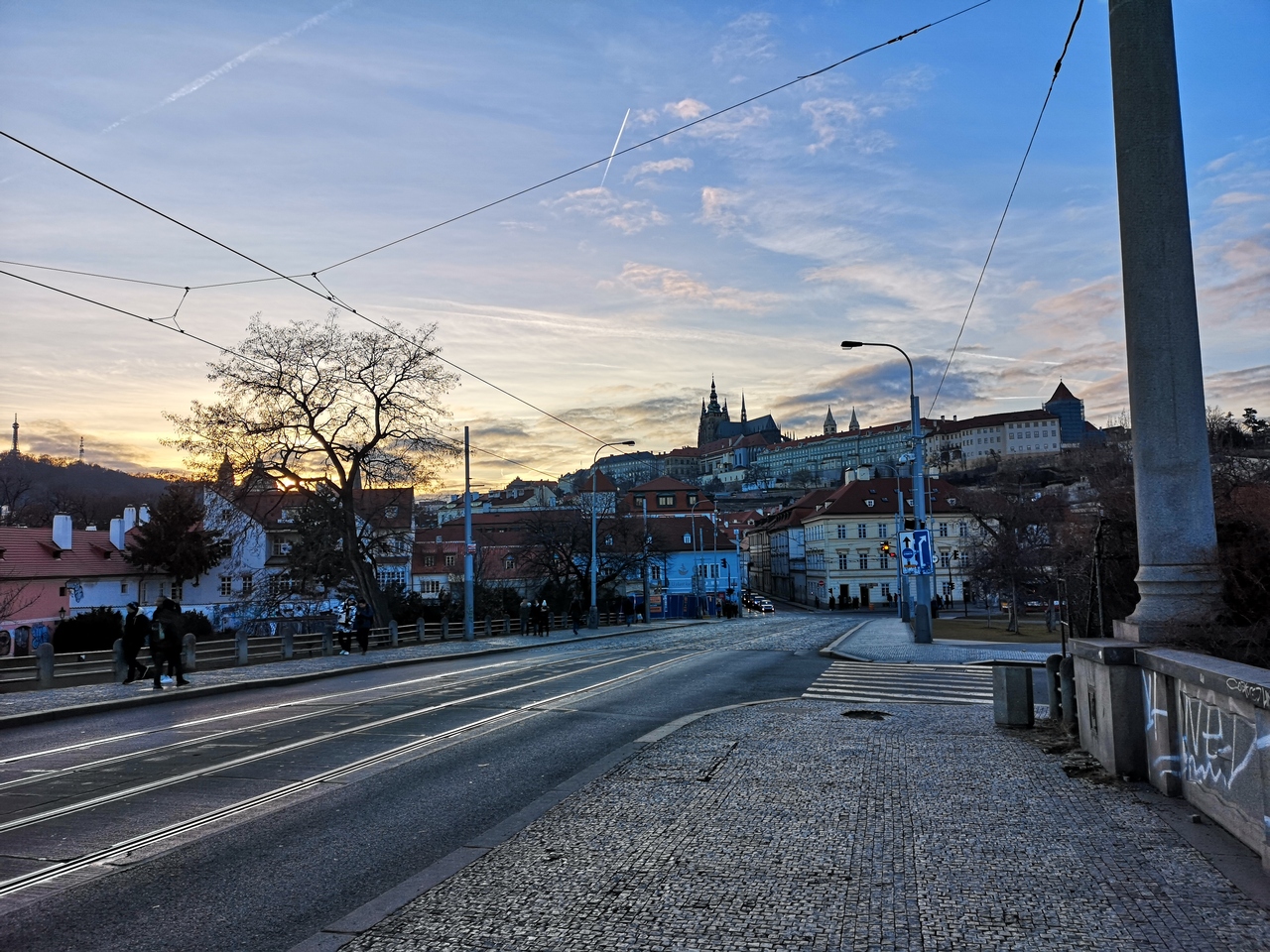 Prague castle is a residence of Czech president. Part of Prague castle is St. Vitus Cathedral that is worth to visit while it is a place where are tombs of Czech kings. It is the biggest old castle in the world and also biggest inhabited castle in the world.
Wenceslas Square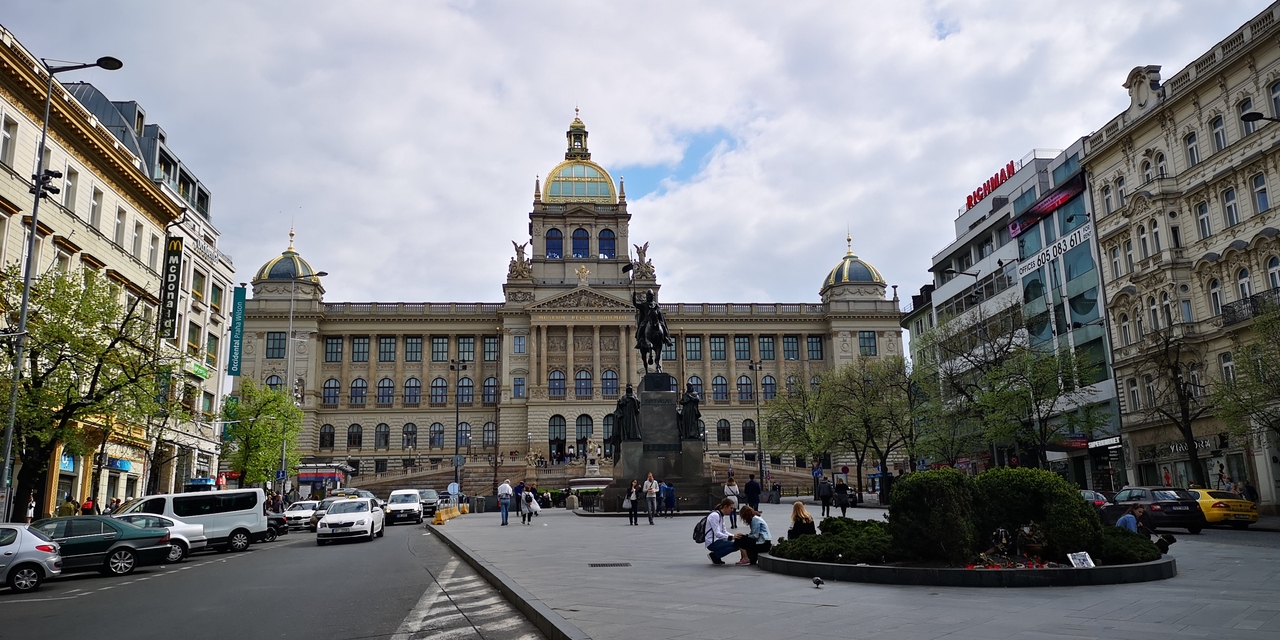 The square goes from National museum to "borders" of the old town. In the past it was used as a place for many demonstartions. At the top of this square is a statue of St. Wenceslas on horseback.
Rudolfinum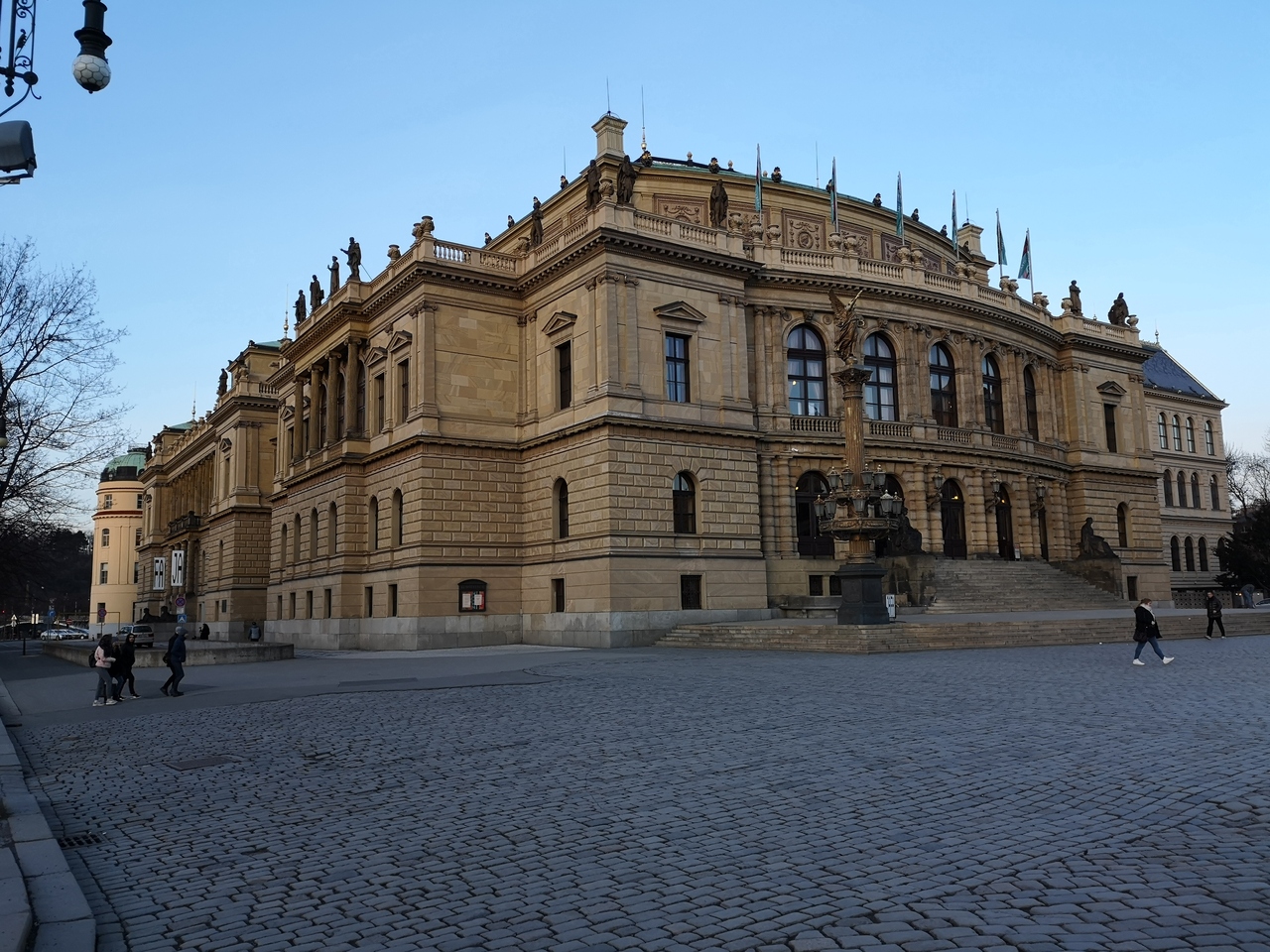 Rudolfinum is a neo-renaissance building that is used to host major concerts. This building belongs to Czech Philharmonic Orchestra.
Klementinum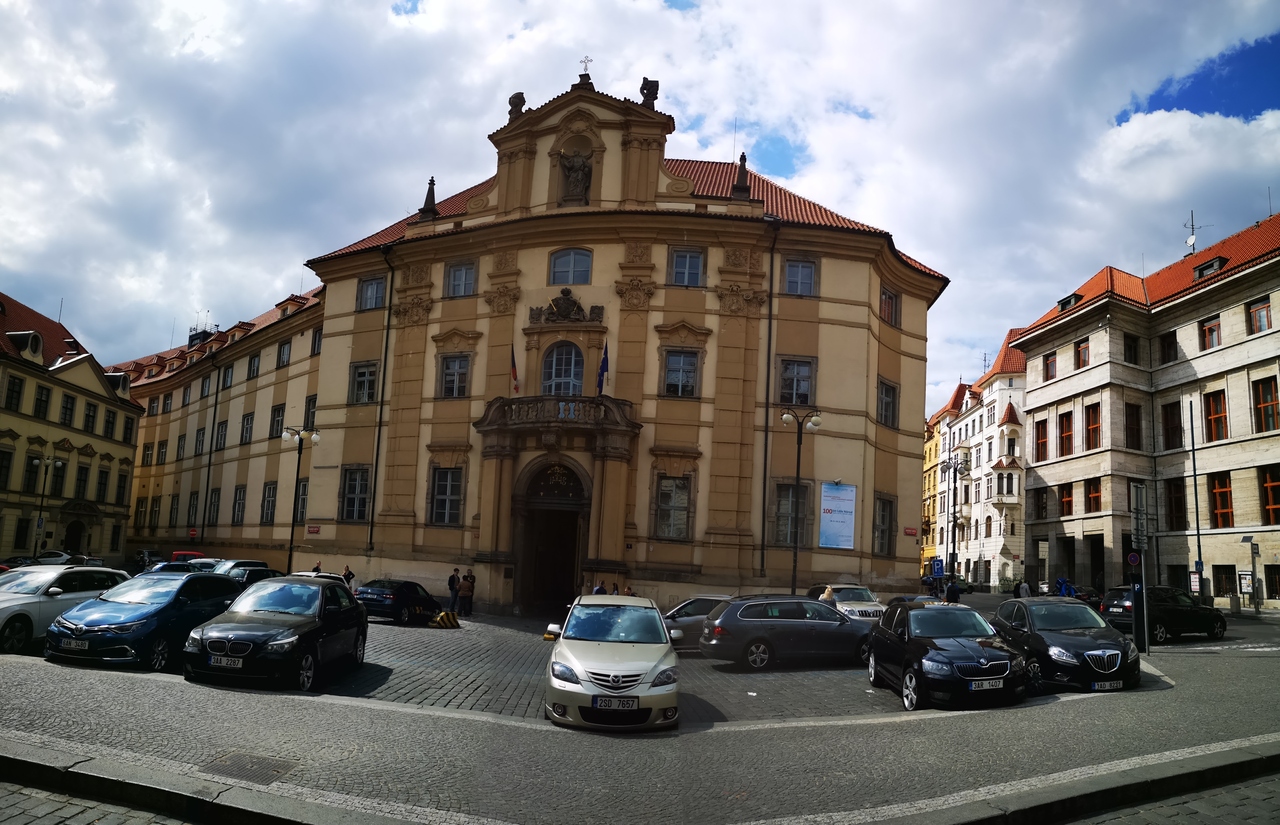 It is the location of the National Library. And it's breathtaking. You can discover it from the inside.
National theatre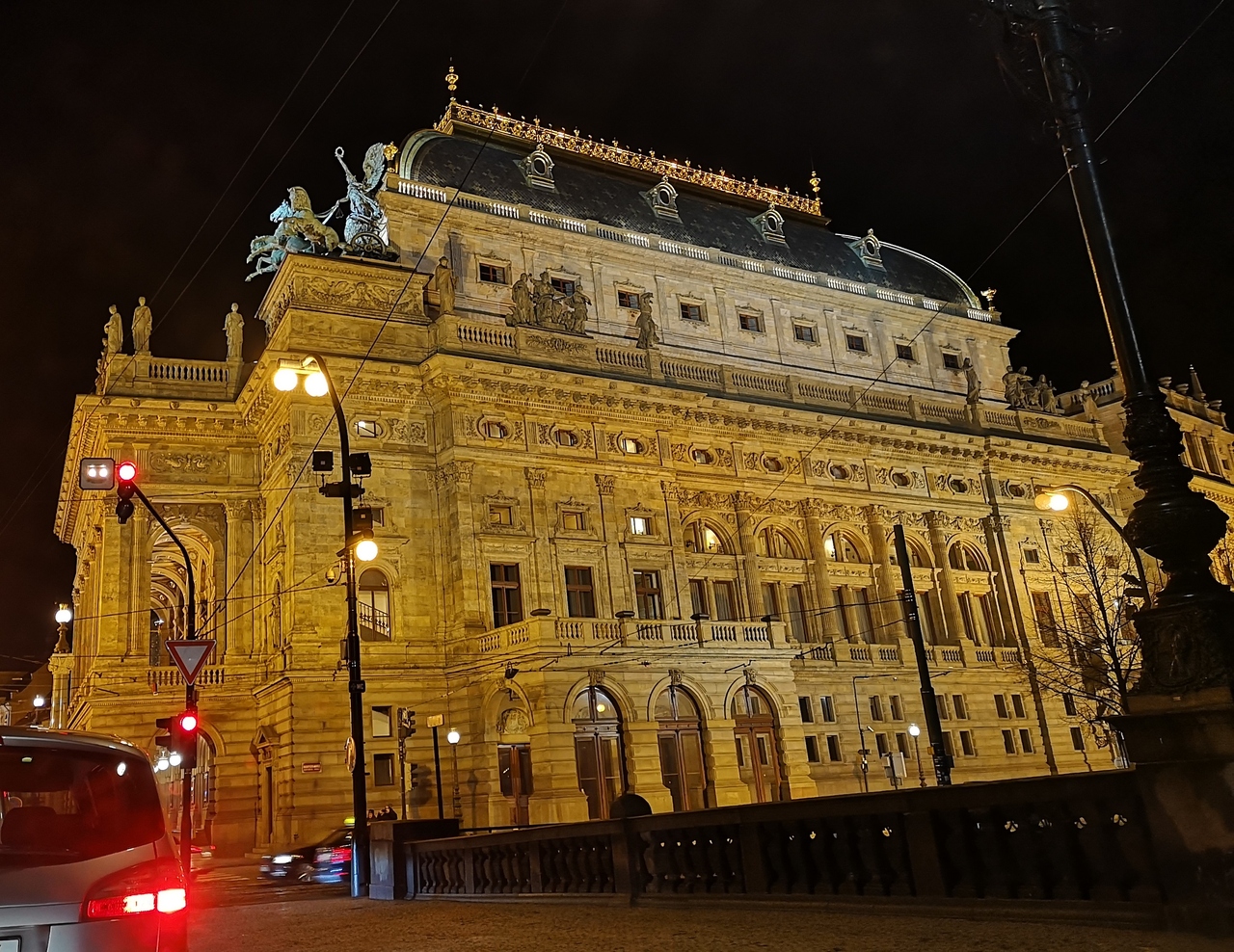 It is one of the most importatn building in Prague. Not only as a cultural heritage, but also from architectural point of view.
Vyšehrad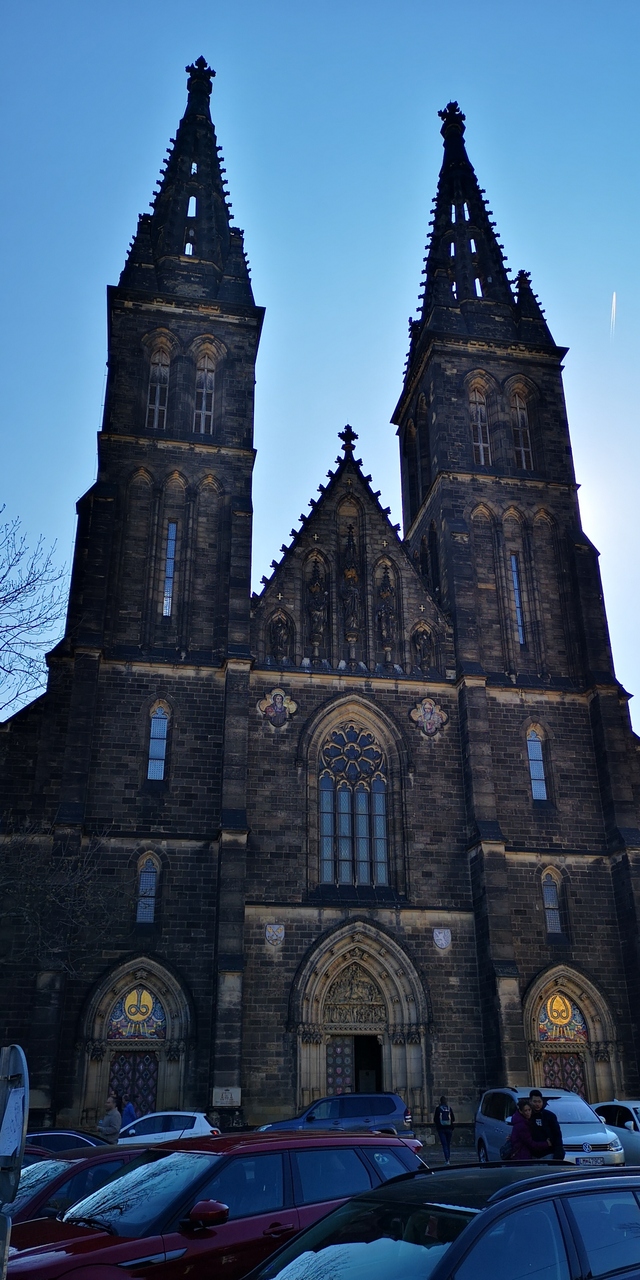 Vyšehrad is famous Czech castle. There is a legend about knight Horymír that was imprisoned inside Vyšehrad. His last wish was to ride his horse Šemík. All the gates of castle were closed, but Šemík jumped over walls. They managed to escape and ended up in Vltava river. Horymír was alive but his horse Šemík didn't survive.
Petřín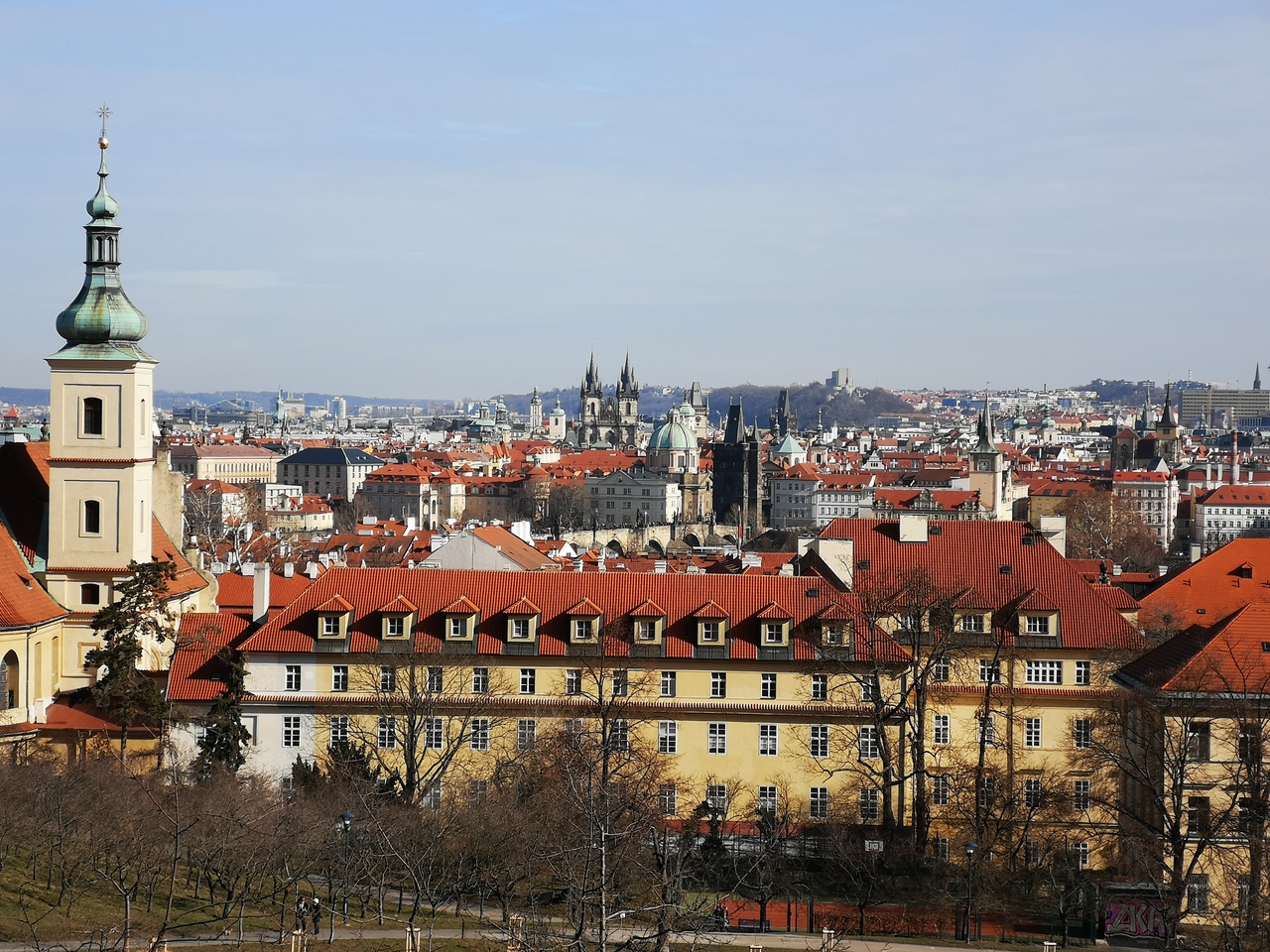 On the top of Petřín hill is lookout tower. Even from the hill is amazing view. In May Petřín hill is place for people in love.
Podolská vodárna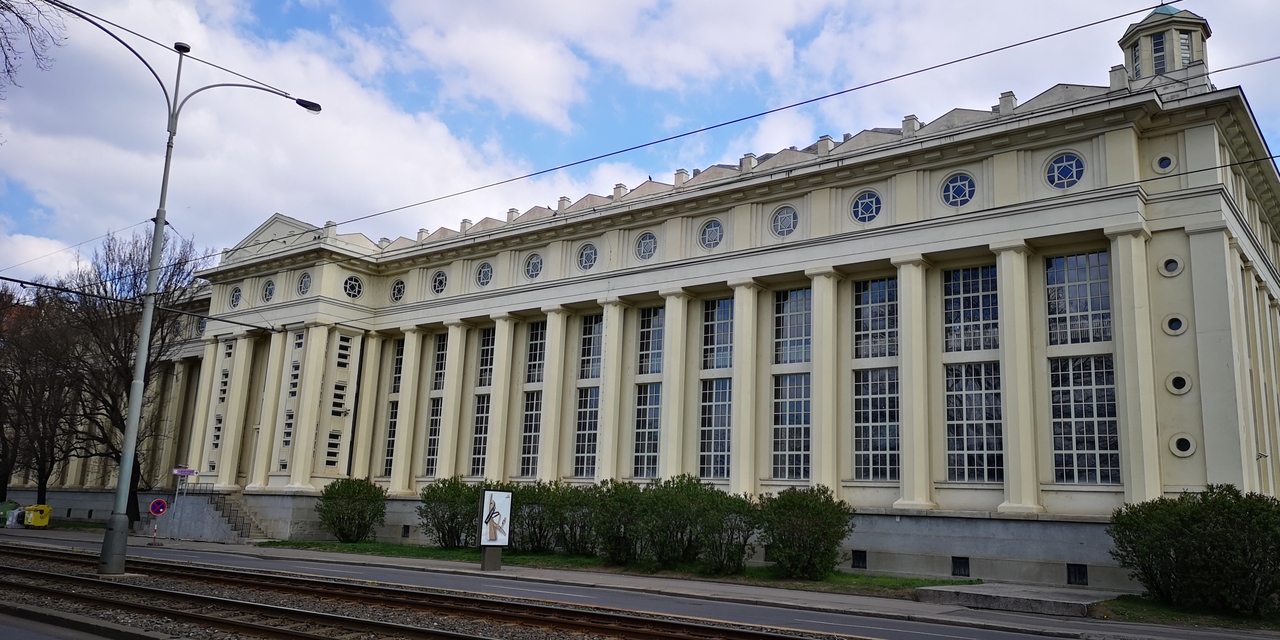 Podolská vodárna is waterworks from early 20th century. It is highly prized architectural work.
Powder Tower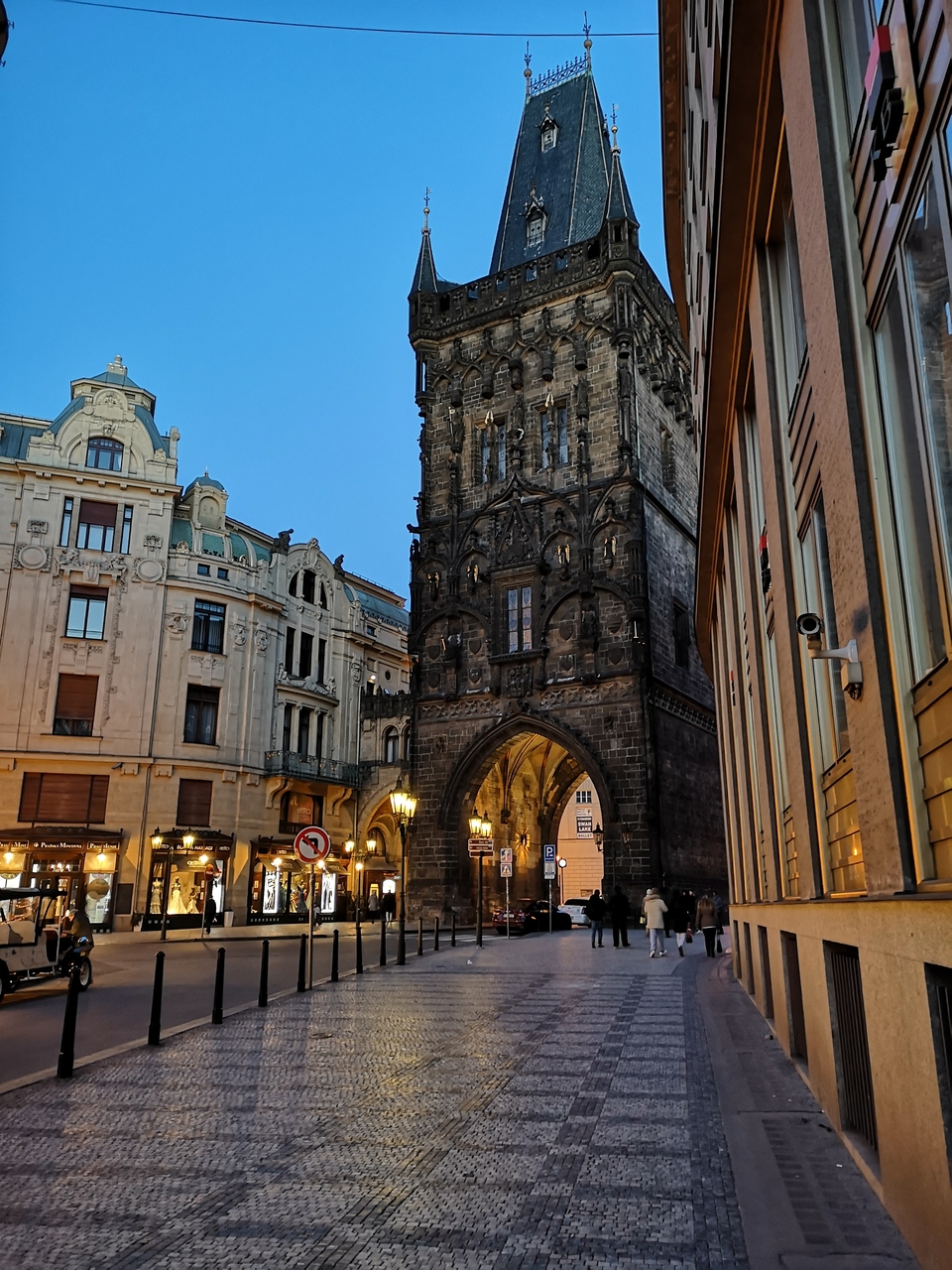 It is one of the symbols of Prague. The Celetna Street, which forms the first part of the Royal Route, that leads from here to the Prague Castle.
Golden Street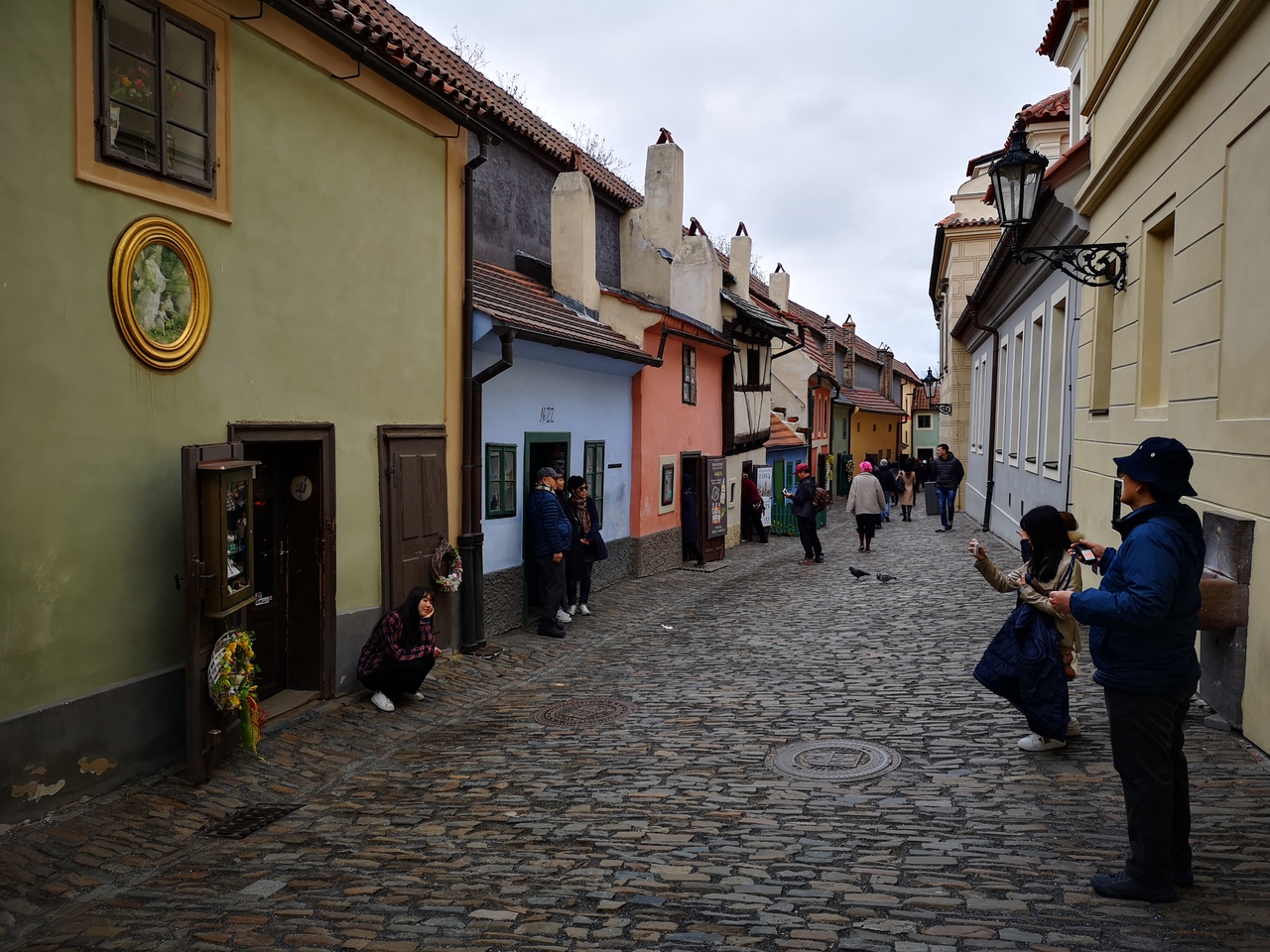 The entire street is paved, the aisle is narrow, and houses resemble doll houses.
Prague metronom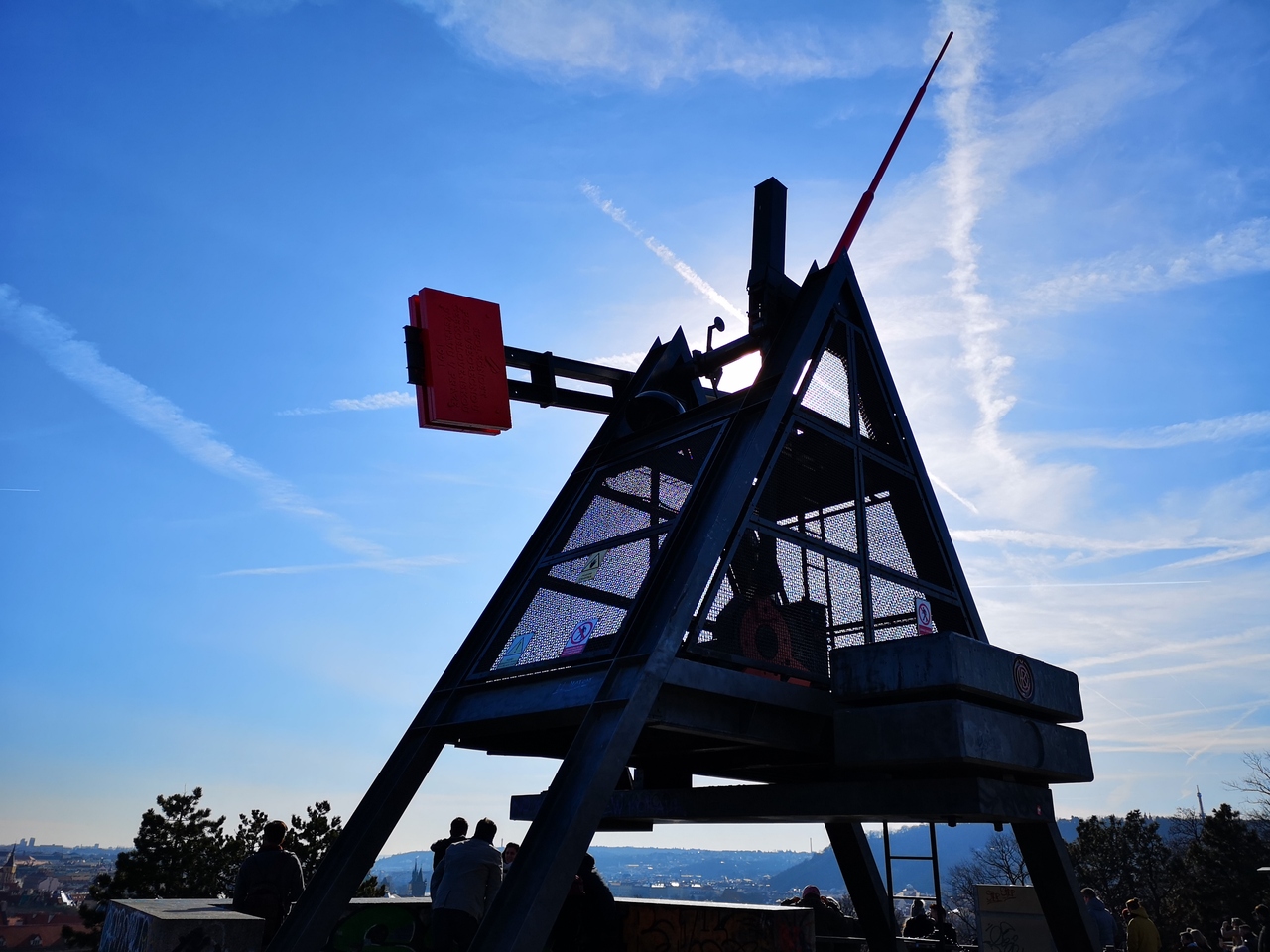 sculpture object that is located in Letna park. In the past there was a sculpture of Lenin. These days its place where you can meet a lot of skateboarders. From Letna park is one of the best views of Prague
Malá strana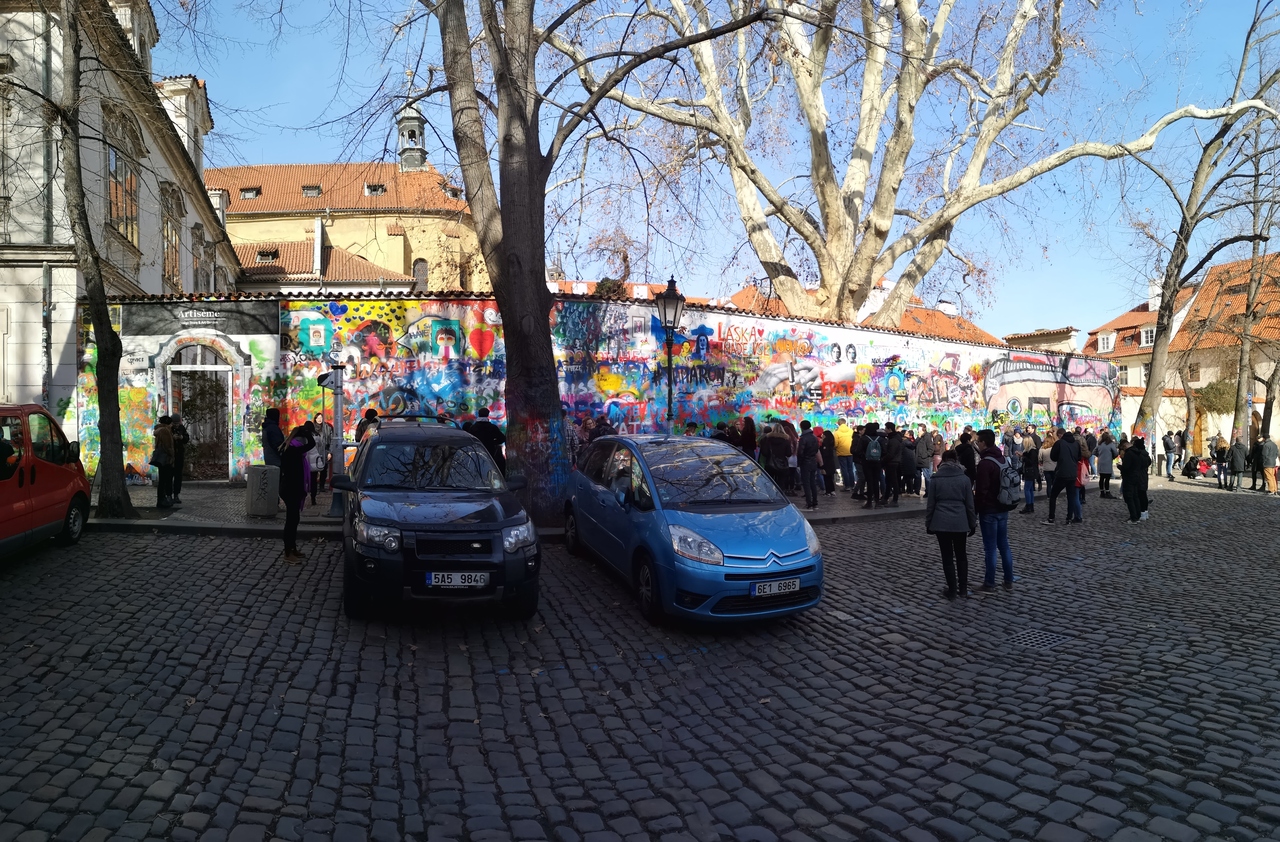 It's one of the most historic regions in Prague. It is also region where you can find Lennon wall - Once a normal wall, since the 1980s it has been filled with John Lennon-inspired graffiti and pieces of lyrics from Beatles songs.
The Dancing House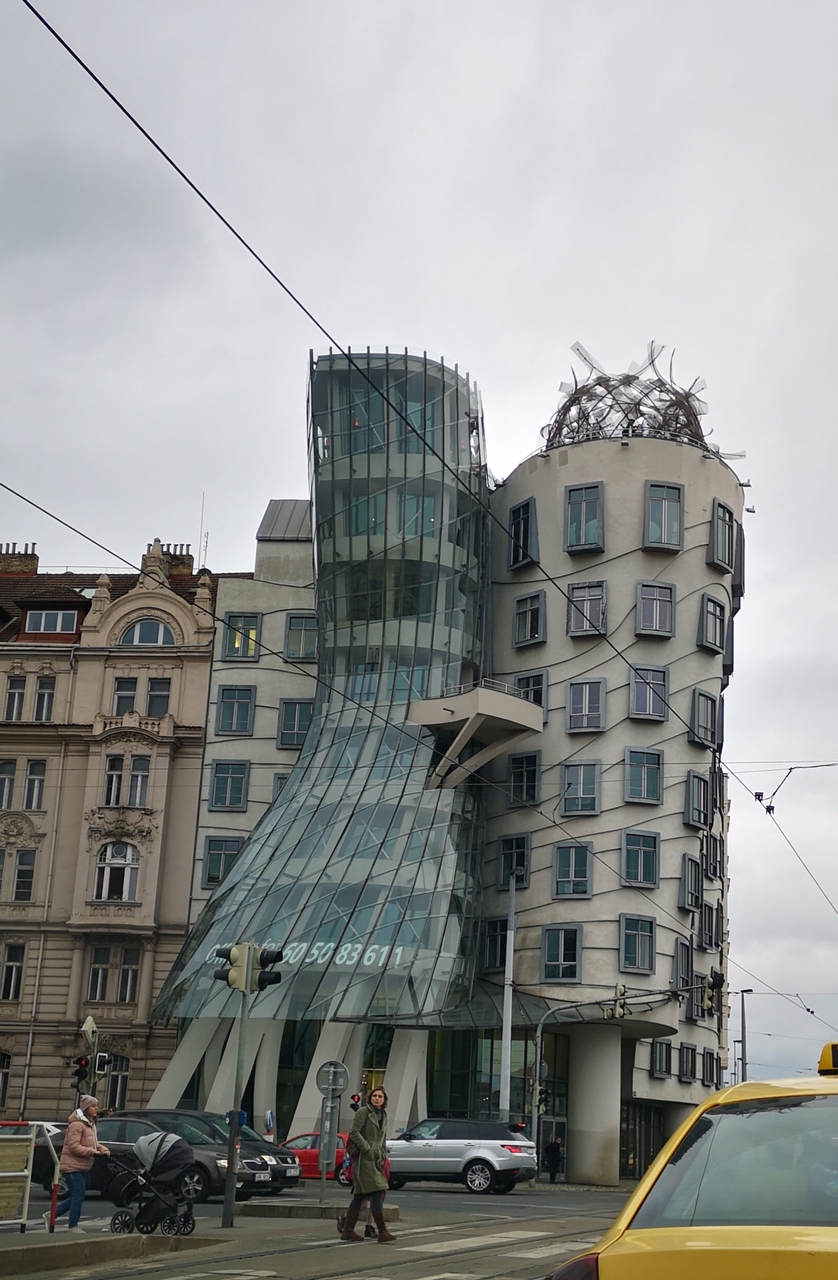 A house that looks like dancing pair Ginger and Fred
Břevnov monastery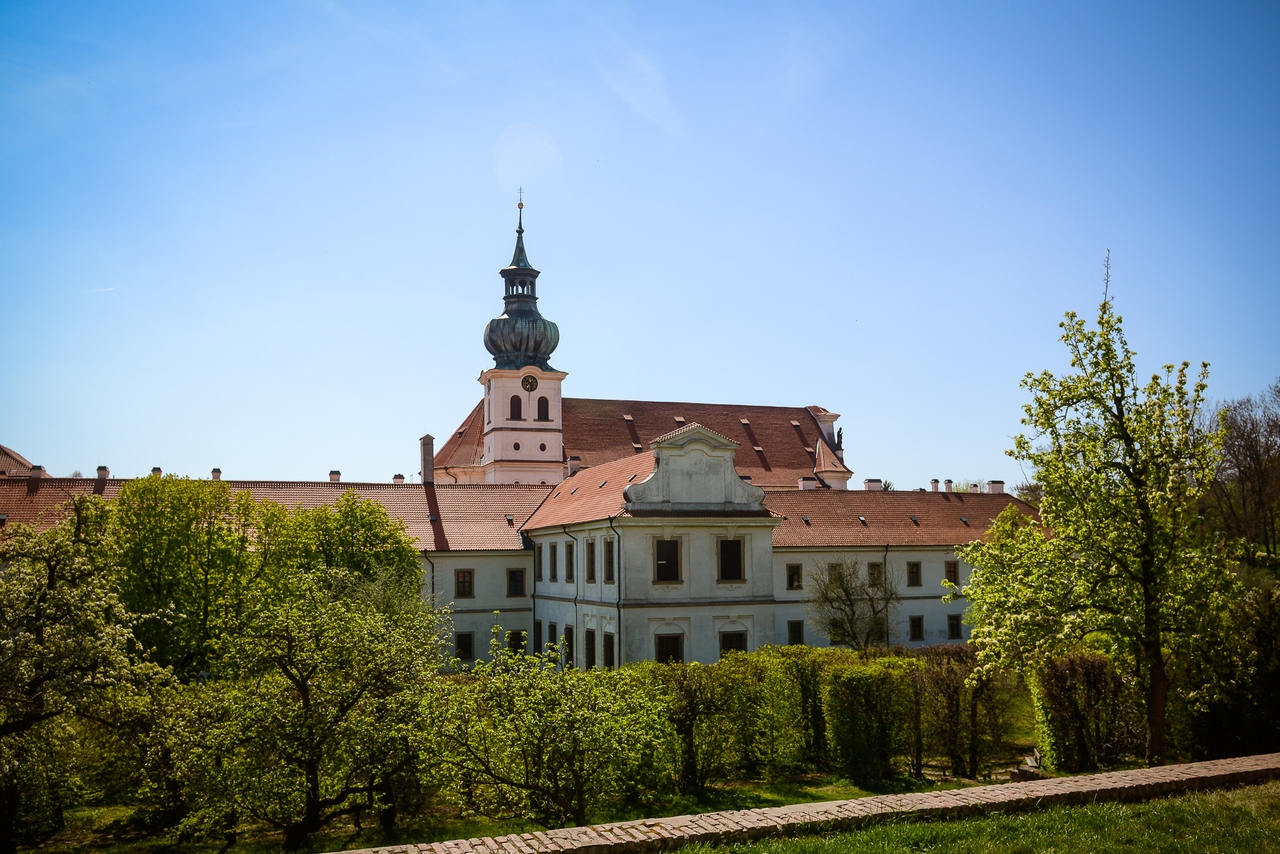 It is the oldest Czech male monastery. It was founded in 993.
National Technical Library
This building is amazing. Everything has some reason there. You can see painted floor or just comic paintings on the wall. If you want to know more about this brilliant building, you have to ask Jan Macháček (the one from cestolet) to organize a tour for you.
Prague city parks
If you will be looking for some green part of the city, you can visit one of following parks.
Letná, Vojanovy sady, Kampa, Petřín hill, Havlíčkovy sady, Folimanka, Parukářka, Vítkov, Kinského zahrada, Stromovka, Divoká Šárka…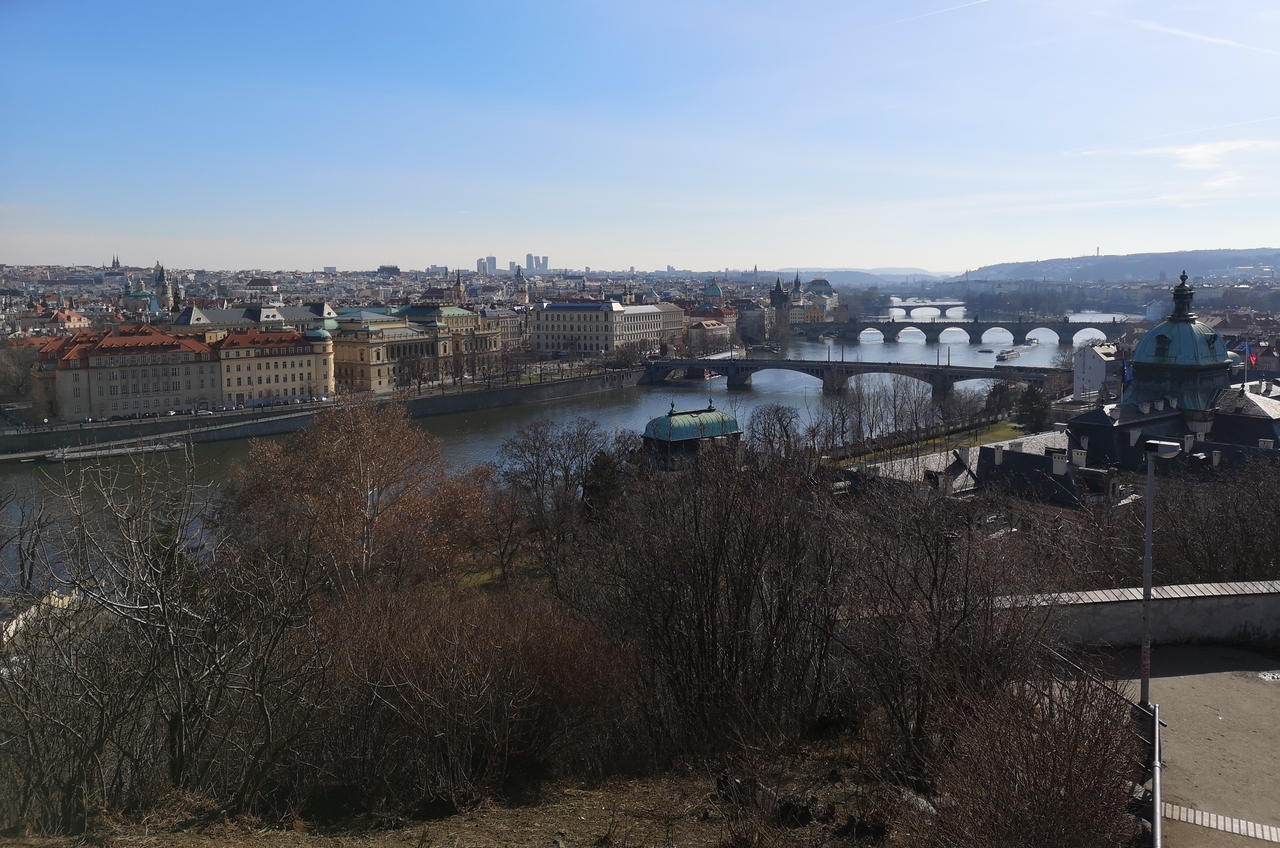 Where (and what) to eat and drink?
Ok, first let's check national dishes. We have lot of national dishes and most of them are fatty with pork meat. As a side dish we usually have bread dumpling.

So here is the list of our traditional dishes:
Soup:
Tripe soup, Goulash soup, Potato soup, Dill soup, Cabbage soup, Pea soup and Garlic soup.
Main dish:
Guláš (Goulash), Svíčková (Roast sirloin in sour cream sauce with dumplings), Vepřo knedlo zelo (Roast pork with dumplings and sauerkraut), Žemlovka (Bread and butter pudding), Moravský vrabec (roasted pork, spinach and potato dumplings), Plněné knedlíky (stuffed dumplings).
Eventhough most of those dishes are nowadays taken as traditional, there are only few of them really typical Czech. It is Koprovka (Dill sauce), Yeast fruit dumplings and Tomato sauce. And our pub speciality Fried cheese.
Starter:
Utopenec (pickled sausage), Nakládaný hermelín (pickled Camembert), Tlačenka (cold meat dish)
Side dish:
Bread dumpling, Potato dumpling, Bramborák (potato pancake)
Dessert:
Buchta s povidly (cake with plums), Koláč s tvarohem (cake with cottage cheese), Vdolky (czech muffins), Bublanina (souffle)
Those desserts you won't probably find in many restaurants, but you can buy it in almost every bakery. Just please try to use Czech words, in english people might not understand what you want.
And what to drink?
Yeah, right, you think that the only answer is beer, but let's look a bit closer.
First of all tap water in Czech republic is drinkable. In any restaurant you can ask for a glass of tap water. You can refill your bottles almost everywhere. Even toilets on a gas stations have drinkable tap water. So please don't buy plastic bottles. You will save money and our environment.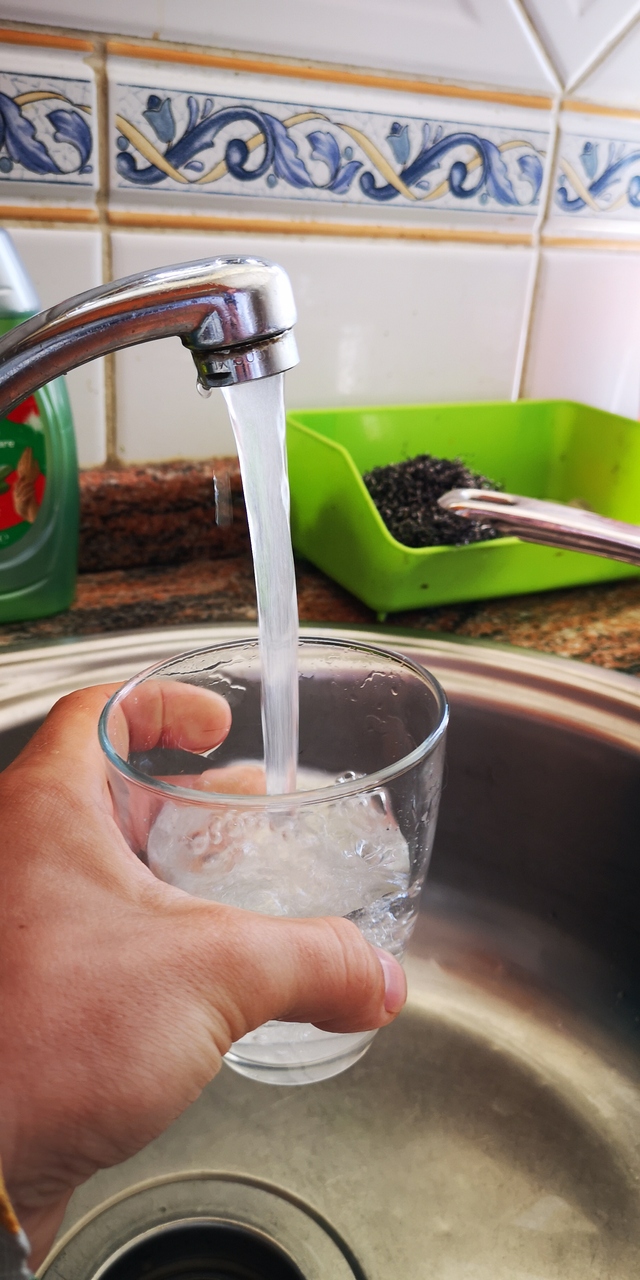 Let's stay with non alcoholic drinks first. Almost everywhere you can buy "malinovka". It is like a memory of the childhood for us. Sparkling water with the taste of raspberry. Every kid loves this one. Then we have "Kofola". It might be similar to coke, but not so much as you think. The taste remindes somehow of gingerbread and we still don't know why. It is very delicious and you should definitelly try it!
Now let's go through alcoholic drinks. In Czech we produce very good wine, especially if you will be in Moravian region. There you can find also slivovice (made of plums). Next are famous our herbal liqueurs such as Becherovka and Fernet. We have a special kind of alcohol, in past we could call it rum, but since it is made out of potatoes, we can't now. It is called "Tuzemák". And then you can buy also local mead. On the winter christmas markets you can try Czech hot wine (bit different than other ones).
Yeah I know what we are famous for, so let's see what we can do here.
Beer
We are beer nation so we have plenty and plenty of breweries. Actually more than 400 of them. And even if we take only the big ones you still get almost 50. You can now understand, why is it so hard to pick the right ones.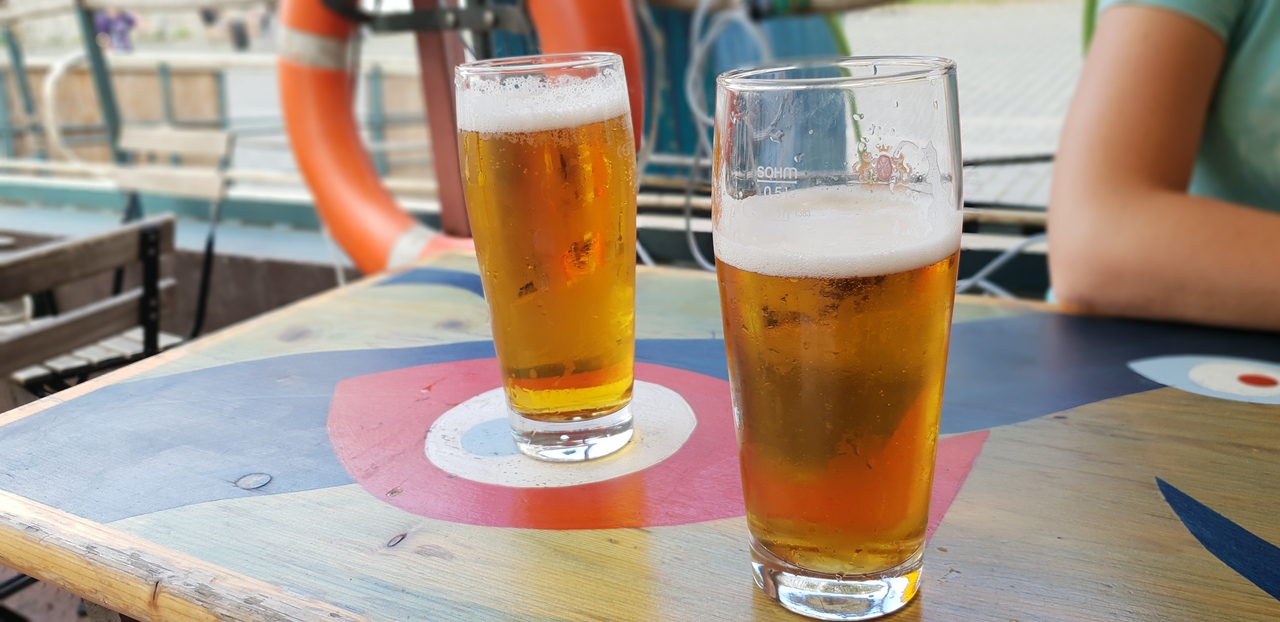 Let's do it first the oposite way. Here you have main beers, that are NOT Czech.
- Heineken, Stella, Carlsberg, Guiness, Paulander...
Now few of main Czech breweries.
- Pilsner Urquell, Gambrinus, Velkopopovický kozel, Staropramen, Krušovice, Zlatopramen, Klášter, Svijany, Budějovický Budvar, Bernard…
From the small breweries we can recomend to try these.
- Matuška, Clock, Zichovec, Antoš…
Or just go and visit some brewery. It's not hard to find one. Within 30km from place I grew up we have at least 5!
Now when you know what to eat and drink, you also need to know where to go.
If you want to have Czech dishes you can visit one of these restaurants.
- U staré pošty, Potrefená husa, Kolkovna, Tradice
I understand that some of you might not like our meals, so you can try burger at Dellmart, or Yes burger.
For a drink I can recomend for example Skautský institut and Loď pivovar. If you want really great bar, with perfect service and coctails, then you have to try Café Bar Pilotů!
I hope you will try at least one Czech dish and that you will drink Czech beer and not other now.
Typical Czech souvenirs
Ever wondered anywhere in the world, what is typical for that place and what is not? Let me help you a bit in Czech republic, because especially in Prague you will find a lot of things that are selled as a typical Czech souvenir, but it's not.
Of course that typical Czech souvenir is related to beer. You can buy a beer glass. Sometimes in malls you can buy special package of beer with glass included. Try that one instead of markets in Prague center. We have very famous glass industry called Bohemian Crystal. And if you stay with drinks, great choice is our traditional alcohol such as Slivovice, or Becherovka. Then you can buy also traditional porcelain.
From food and snacks it can be for example "Lázeňské oplatky" (kind of round wafer), "Hořické trubičky" (sweet tube filled with different flavours), and "Pardubický perník" (special kind of gingerbread).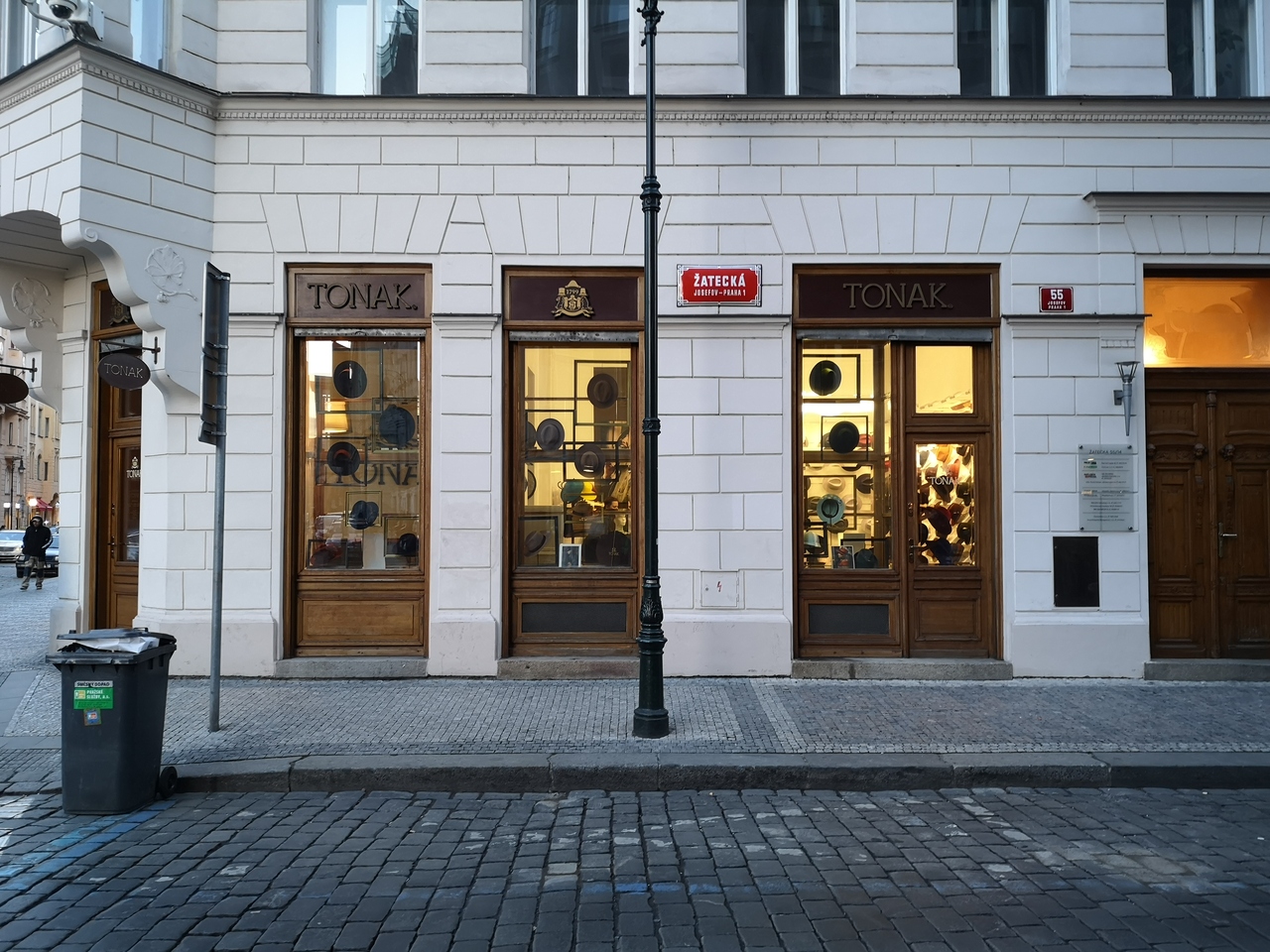 If you like clothes you should definatelly have a Tonak hat. It is pretty expensive, but it's handmade and very classy. Or you can buy shoes from Baťa. It is a Czech brand. The most famous shoes were his gym-shoes. You can buy those and use them for sports. Also our jewellery is special. In the central region of Czech republic are sites of garnet. This red stone is used in a lot of jewellery products, that you can buy.
For your kids there are also more options. One of the best known fairytales in Czech is Krteček. It is animated fairytale serie about mole and his forrest friends. Eventhough it's very old, kids just love it. You can watch it too since there are no words. If you see a mole as a toy, it is great present from Czech for your kids. Next very famous was a comic book serie "Rychlé šípy" and from this serie we have so called "hedgehog in the cage". This toy is special brain teaser that was used in most famous episode of these comic books. We have also tradition of wooden toys, that you can buy almost everywhere in Prague. This includes puppets too. The older generation used to "play a theatre" with those puppets for friends. And if your kids are creative, you can buy them Koh-i-noor products. This company is making pencils, rubbers and other stuff.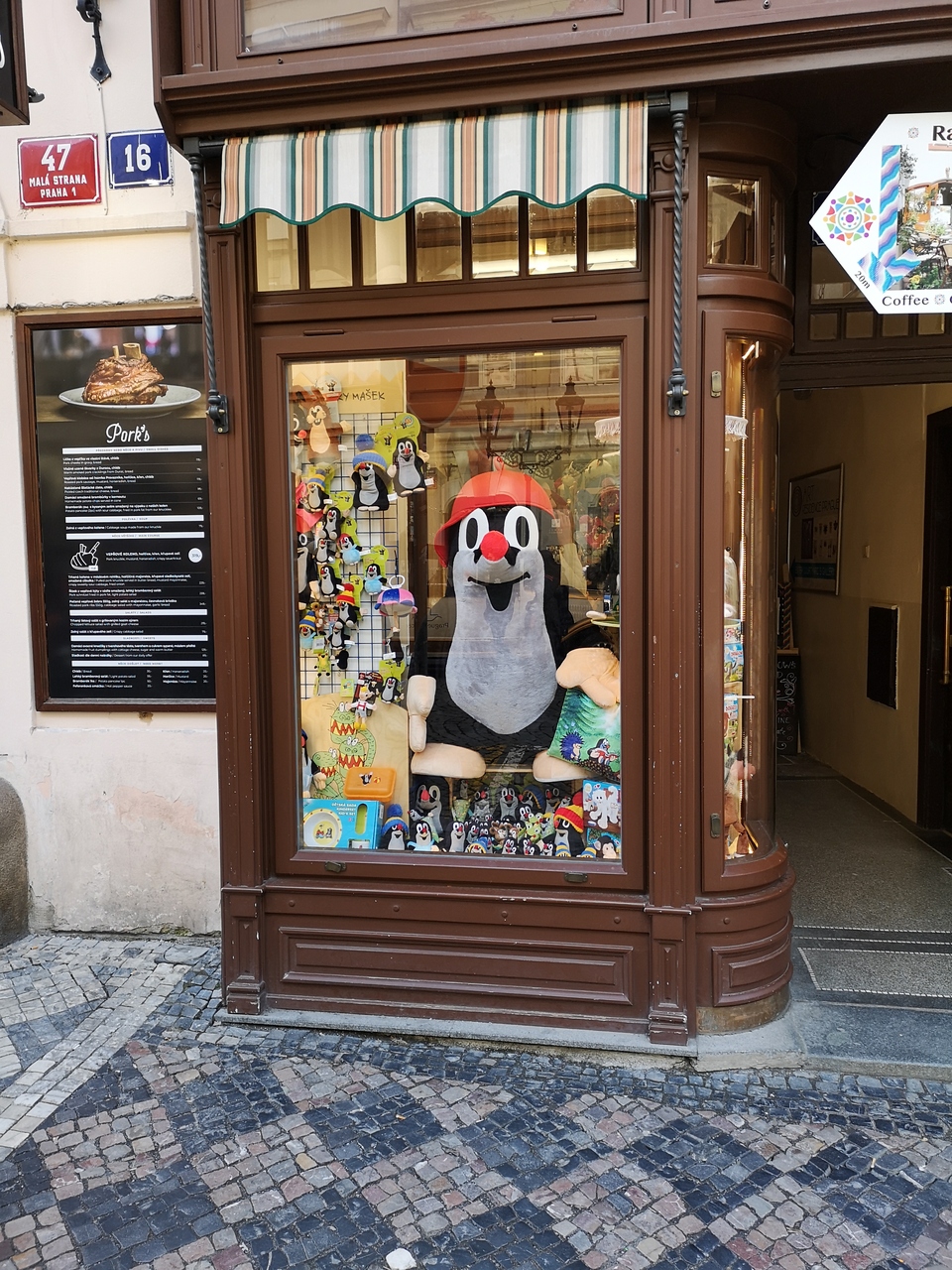 Great choice to buy souvenir is Pragtique and Lípa. There are handmade ware with typical Czech motives.
Not Czech
Russian "Babuška", Russian hat "beranice", Sweet "trdelník" and absinth.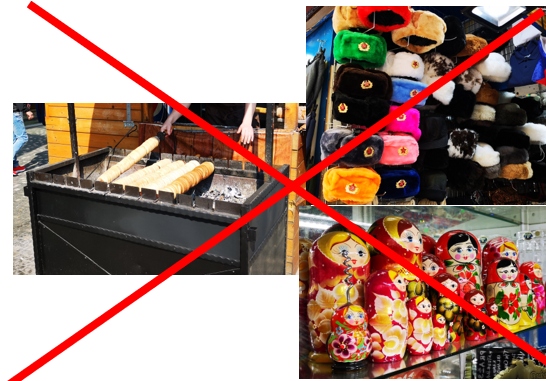 Accomodation
There are usually two most expensive things when traveling – transportation and accomodation. Transportation in Prague we already know, let's check what possibilities you have with accomodation.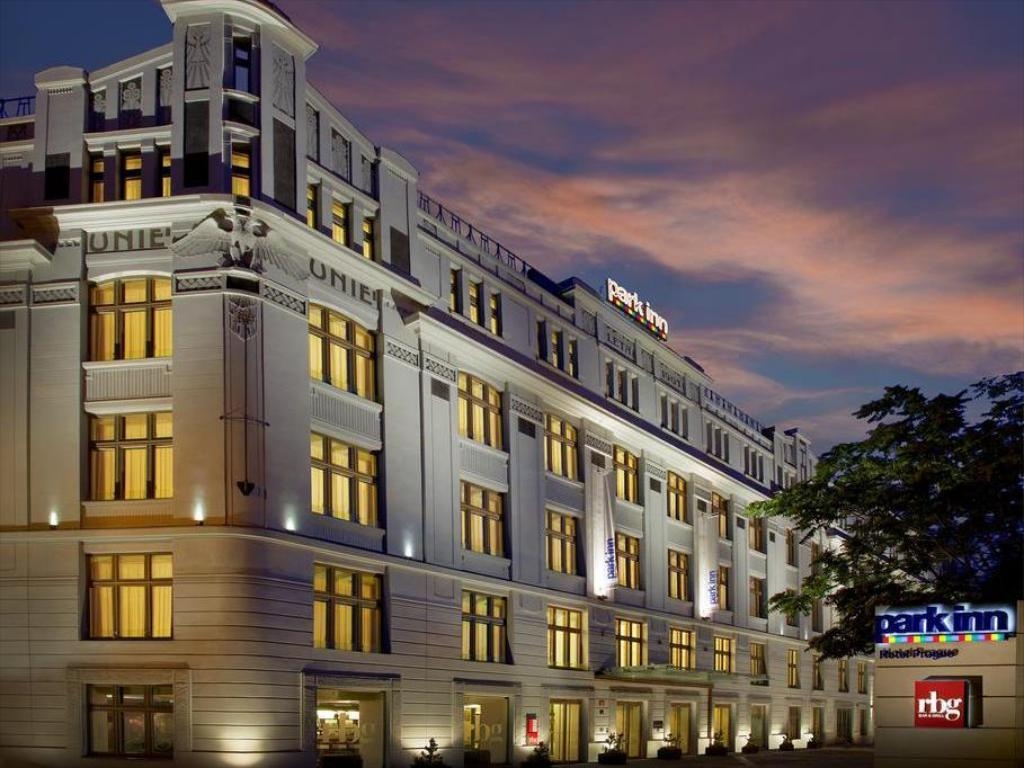 If you want to enjoy your trip with no worries and with a lot of comfort, you should choose a hotel stay. In Prague we have plenty of good hotels and of course booking.com will work fine. But to choose the great choice is everytime little bit hard. Especially if you have so many options. I have picked 3 hotels, that are great from my point of view.
Grand hotel Praha – This hotel is located in the old town and is very classy hotel. His biggest advantage is the location. Price is little bit higher, but for most of the tourists affordable.
Clarion hotel Prague – Stylish hotel with a good location near city center.
Park inn hotel Prague – Park inn is not located in the old town, but still you can reach it in 15minutes by walk. It se very near by Vyšehrad castle. This might be actually great for you, if you don't want to be disturbed by drunk people near your hotel stay. It is also cheaper than the previous ones. And they have great meals in their restaurant.
Next possibility for you is hostel. First of all hostel is cheaper than hotel. You still have breakfest included, so it is better than camp. And you meet a lot of other travelers. You can exchange experiences and make a great friends. To search hostels I recomend web hostelworld.
If you visit Prague during spring and summer you can try to use camp. I have found 4 camps.
Caravan camping, River camping, Camp herzog, Prague central camp
Last possibility is to use couchsurfing. Just keep in mind that in Prague couchsurfers recieve more than 5 requests per day. And also don't use couchsurfing for a free accomodation, but use it for it's purpose. You can really discover the life in Czech republic through this app.
Attraction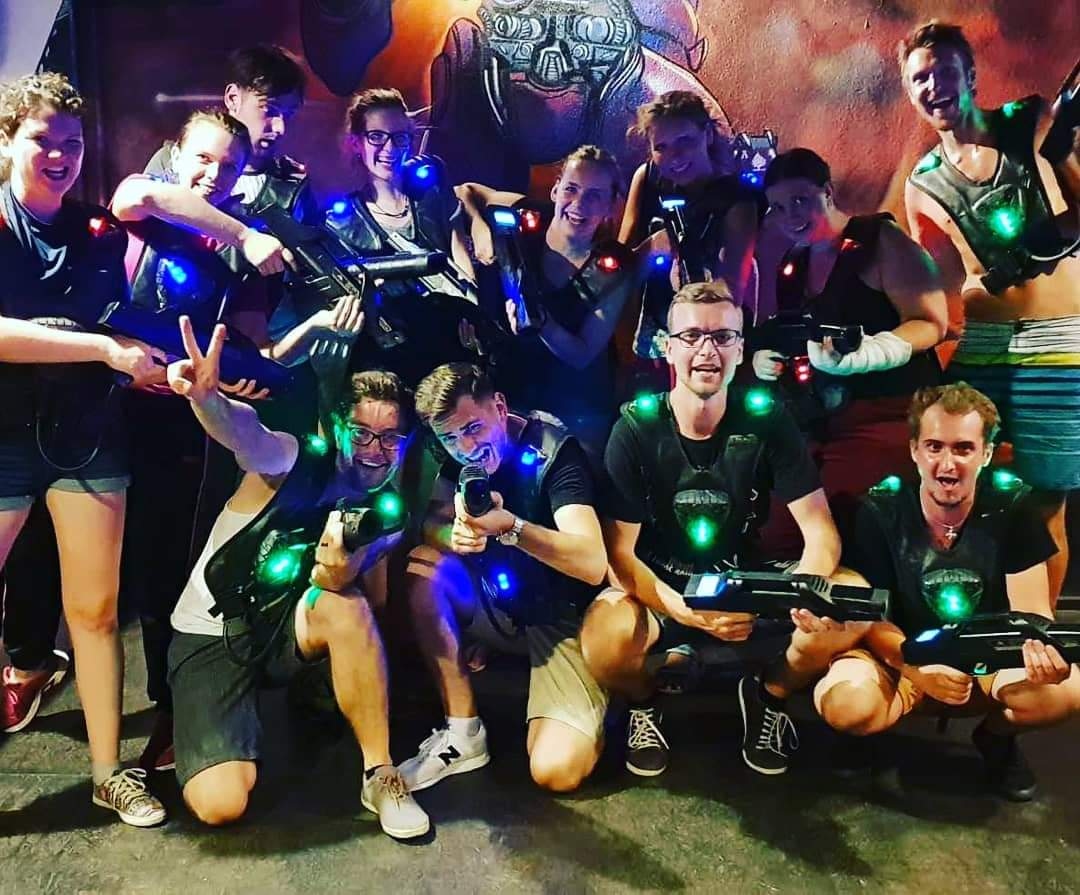 If you want to have fun, you can try one of following attractions.
- Pedal boats in Prague
- Small motorboat in Prague
- Find the narrowest street in Prague (it's traffic is controlled by traffic lights)
- Cableway to Petřín hill (use the same ticket as for city transport)
- Paddleboard in Prague
- Prague Zoo
- Rafting in Troji canal
- Canoeing outside Prague (in the south of republic)
- Ferrata and treking in nature
- Lasergame, karting, escape rooms, paintball…
You have many posibilities how to enjoy your stay in Czech republic the most.
Four Seasons
We really do have four seasons eventhough last years spring and autumn are disappearing. Each season is different and each has some special events happening. You can choose, what season is best for your visit.
Spring
Spring is best time for long walks. Flowers are blooming and nature is waking up. It is also best time to visit a Zoo, while there are new baby animals born. From events it's worth to visit I can mention those:
- burning witches (30.4.)
- carrying out the morana (Sunday one week before Easter)
- 1. May (time of love)
- Easter (traditions are very different and you can read them for example here)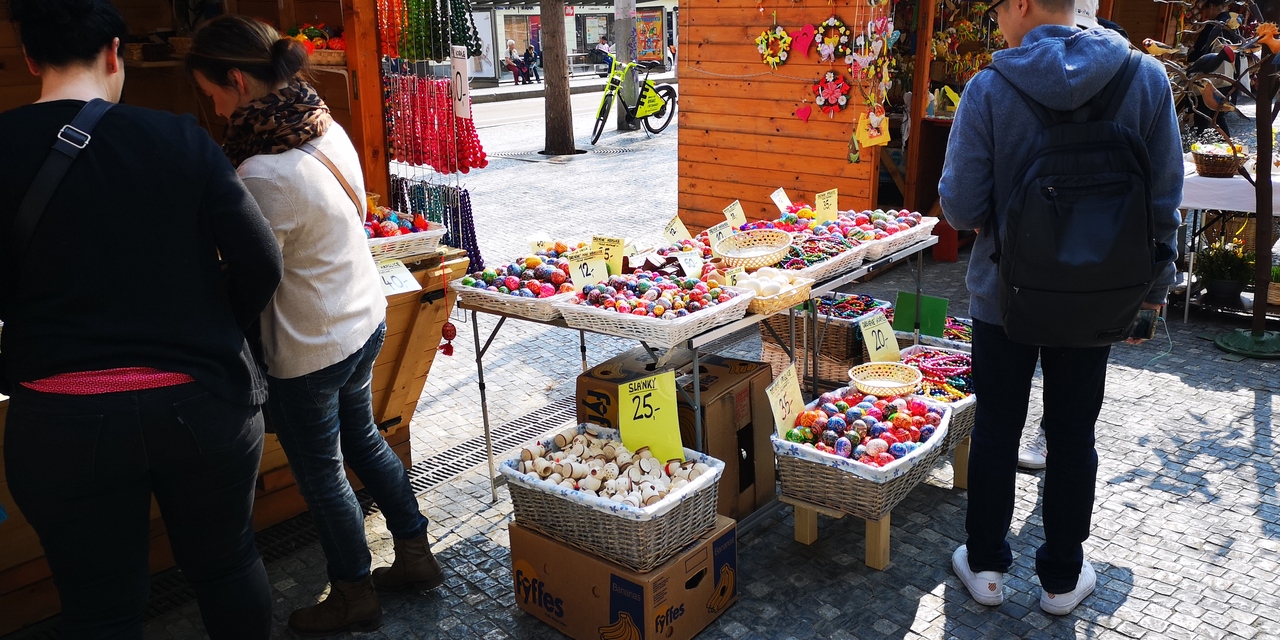 Summer
In the summer you can go swiming, or doing other water sports. There are plenty of music festivals (rock for people, colours of ostrava...). There are events with rollercoasters, summer street markets, straw festivals...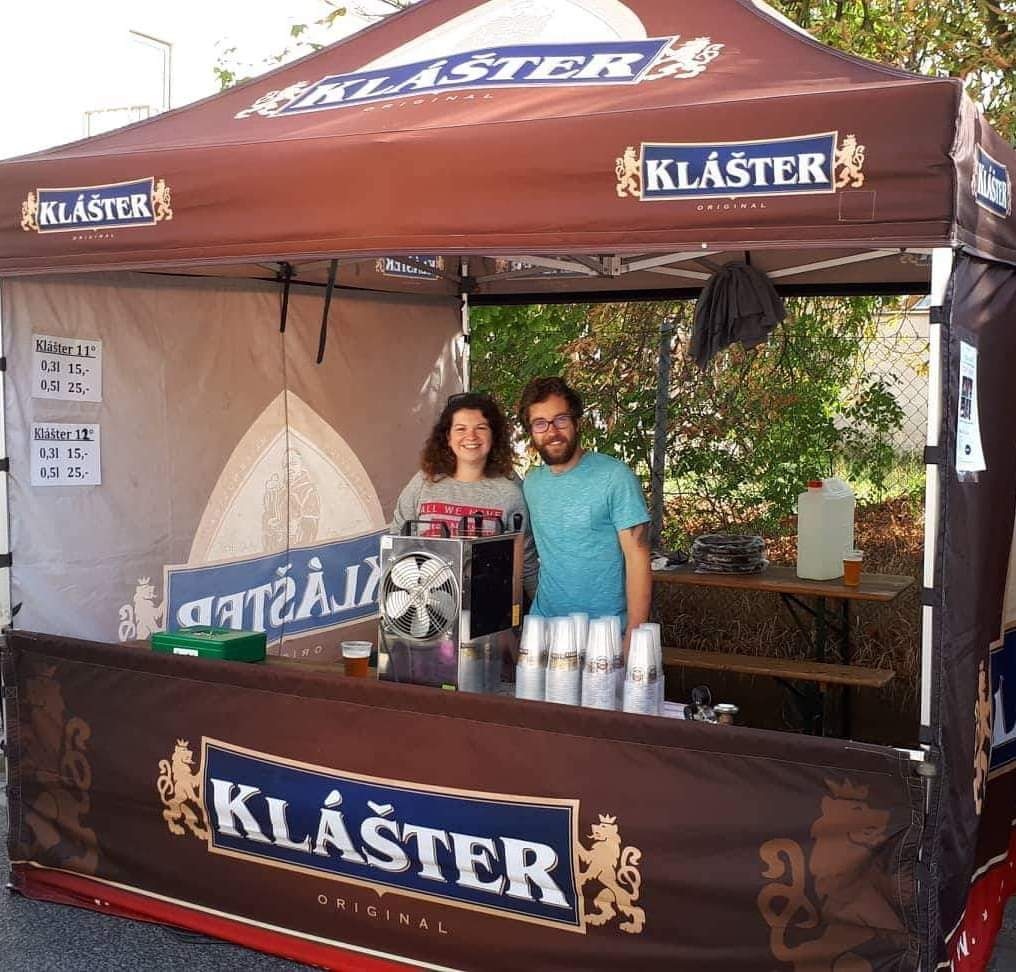 Autumn
In autumn time you can fly a kite, visit wine harvest, try St. Martin's Day goose, or ask locals how they celebrate All Saint's Day. It is amazing time to go for a walk in the nature. Trees are coloured in many different colours.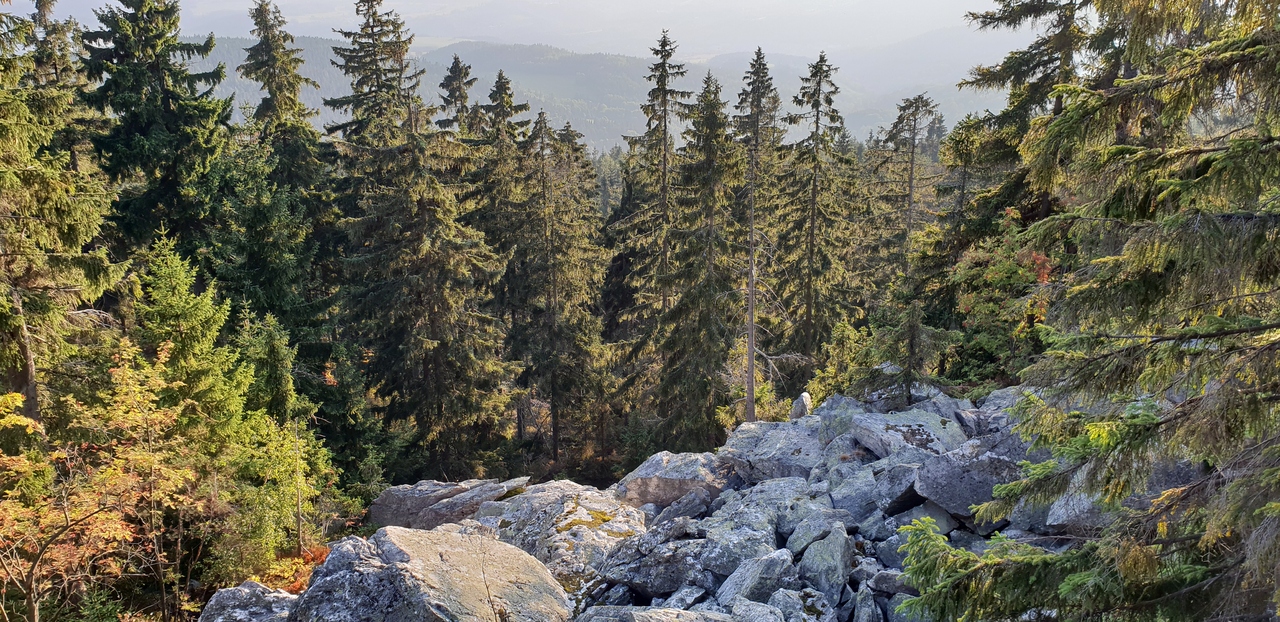 Winter
Winter time is great for skiing, ice skating, or cross-country skiing. You can visit legendary christmas markets and see the New Year fireworks. Christmas celebrations are similar to others. We have baby Jesus instead of Santa Claus and presents are given on 24. 12. evening. Very interesting can be to see how we celebrate Saint Nicholas. On the December 5th adults dressed as Saint Nicholas with angel and devil go together to houses with children. Saint Nicholas has a book of children, where is written how the kid behave. Usually Saint Nicholas say something that the child did wrong and ask it to improve it next year. Then the kid is asked to sing some song, or something similar. In exchange kid gets some sweets. So don't worry if you see Devil, angel and Sain Nicholas.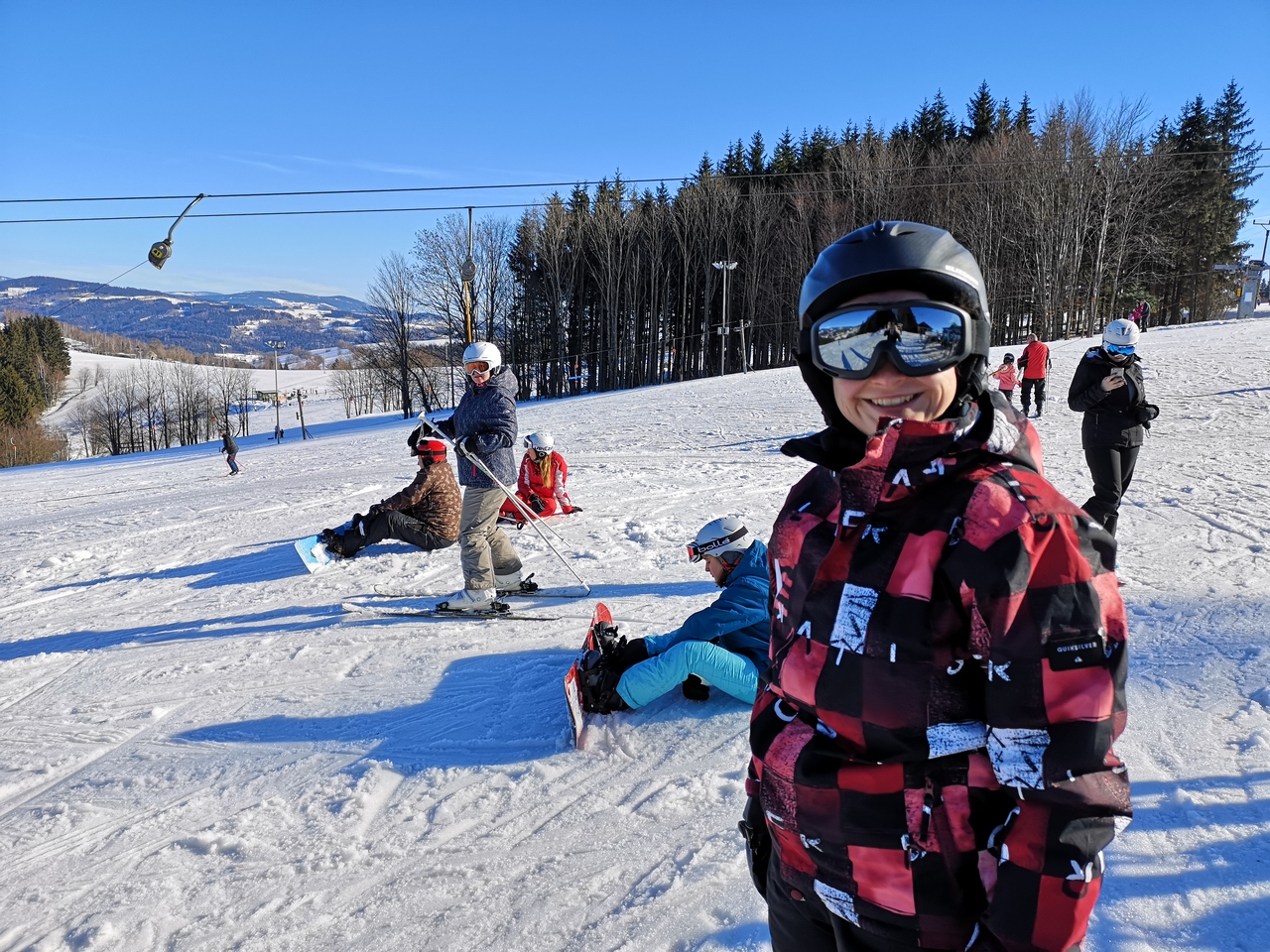 Safety
Safety itself is on high level in Czech republic, however you should know few things.
- Prague is biggest city in Czech and probably the most dangerous one.
- There are robbers trying to steal your wallet from pocket. You should always pay atention.
- On the streets you can meet a lot of drug dealers. Usualy not Czech citizens.
- Watch over your baggs everywhere.
- Always lock your flat and your car.
- Don't try to argue with drunk people and definetlly do not fight with them. You don't need to get hurt, but you might have problems with law.
- Don't use the first taxi you see. Rather use the ones described in this article.
- Don't take drugs you don't know.
It might seem bit scary, but it is not so dangerous as it might seem. Those tips are good to follow anywhere in the world.
If you still get in trouble use one of following phone numbers:
112 – Emergency number
158 – Police
155 – Ambulance
150 – Firefighters
And that's probably all I can tell you. Now is your turn to explore this amazing city and experience those things on your own. Down you can find link to a map with places to visit and video from "honest guide" that you should definatelly watch.
Map with places to see
And if you want, you can check also my and my wife's journey around the world here:
For fun you can try to learn our letter Ř from following video
Galerie
Mapa